AMD's Socket AM2 processor has given the DDR2 memory market a much needed revitalizing. In anticipation of computer hardware enthusiasts jumping over to the new platform, memory manufacturers have released lower latency DDR2 memory modules in the weeks prior but it appears that Corsair has turned it up a notch.
Enhanced Performance Profiles (aka EPP) is a technology was pioneered by nVIDIA and Corsair, but the open standard has now been adopted by Mushkin to OCZ and Kingston as well. Enhanced Performance Profiles are the next logical step to improve system performance by allowing the BIOS to dynamically overclock the memory subsystem. With CPU scaling a standard feature for most higher end motherboards, having memory that can scale with the rest of the system just makes sense.
From what has passed through the PCSTATS test labs so far, Enhanced Performance Profiles compatible memory does make a noticeable difference in games, and it is a great way for novice overclockers to learn the ropes. Even if you're an experienced overclocker, you can still learn quite a bit from Enhanced Performance Profiles memory. For instance, watch how EPP adjusts the lesser known memory timings like tRRD, tREF or tWR - and then note how the system reacts.
In this review PCSTATS will be testing Corsair's latest 240 pin DDR2-800 memory, the 2GB Twin2X2048-6400C3 kit. Like the Twin2X2048-6400C4 that we had the opportunity to test previously, this set of memory is compatible with Enhanced Performance Profiles. What sets the 6400C3 kit apart from the rest are its timings... and they are some of the lowest anywhere.
According to Corsair, the Twin2X2048-6400C3 memory is rated to run at DDR2-800 speeds with CAS latency timings of 3-4-3-9, albeit with a voltage of 2.2V. This memory comes with a huge price tag however, retailing for $505 CDN ($454 US, £243 GBP). Ouch!

Corsair Twin2X2048-6400 C3 DDR-2 Memory
RAM Memory Type: DDR2-800 / PC2-6400
Individual Module Capacity: 1GB
Native Speed & Latency: 800 MHz @ CAS 3-4-3-9
Enhanced Performance Profiles (EPP): Yes
The current JEDEC DDR2-800 standard calls for timings of 5-5-5-15 with a voltage of 1.8V and that's what's programmed into the SPD. Enhanced Performance Profiles can take over with a compatible motherboard, and improve things quite nicely. Socket AM2 Athlon64's will benefit most from the low latency memory, however Intel users with DDR2 compatible Core 2 Duo, Pentium 4/D/XE systems can also use this memory.
Aside from the price tag, the Corsair Twin2X2048-6400C3 looks near identical to Corsair's other DDR2 DIMMs, so pick memory carefully when buying! Memory that is Enhanced Performance Profiles compatible is dubbed "SLI Ready" on the packaging.
Corsair list the Twin2X2048-6400C3 as being capable of running DDR2-800 speeds with 3-4-3-9 timings at 2.2V. To achieve this, Corsair equip the two 1GB DDR2 DIMMs with Micron D-revision DRAM modules, then are hand test each on a nForce 590 SLI platform to see how fast it can go. Corsair also employs an old overclocker's trick, it increases the voltage to get the higher speed and tighter timings to stick. Please note that with the Twin2X2048-6400C3 running with 2.2V, things can get quite hot, good system airflow is mandatory.
Enhanced Performance Profiles

Corsair and nVIDIA have co-released a memory-centric standard called Enhanced Performance Profiles (EPP), which for the moment is specific to the nVidia nForce 500-series chipset and Socket AM2 AMD Athlon64 platform.
Enhanced Performance Profiles take over from where the Serial Presence Detect (SPD) EEPROM that is on every stick of memory leaves off, and adds extra information about how much faster the memory can run while remaining completely stable. The EPP information permits compatible motherboard chipsets and BIOS' to dynamically adjust memory timings and voltages for improved overall performance without any user interaction. If you're an expert overclocker EPP provides a jumping off point, if you're a novice it does all the hard work for you automatically.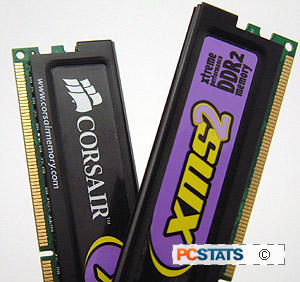 In additional to the settings the SPD provides to the computer, EPP memory contains up to two full performance profiles and up to four additional abbreviated profiles which allow the computer to switch between various settings on the fly.
CAS Latency, RAS to CAS Delay, Command Rate and memory voltages are just some of the options that EPP can adjust on the fly.
With automatic motherboard overclocking already a hit in the retail market, Enhanced Performance Profiles compatibility adds memory tuning to the performance mix. EPP will especially appeal more to the novice or moderate overclocker who doesn't want to muck around with memory timing adjustments much.
Enthusiasts can still override the EPP profile by setting memory timings manually in the BIOS.
At the moment EPP memory is only compatible with the nVIDIA nForce 590 SLI chipset, but VIA and Intel are expected to follow suit. The idea is being proposed to JEDEC as an open standard. We expect all chipset manufacturers will adopt EPP memory support in the BIOS for high end products. If you are wondering whether the set of memory you're looking for is EPP compatible, just watch out for the 'nVIDIA SLI Ready' sticker. Since nVidia is first out of the gate with this standard, it's stickers will signify EPP compliant memory modules. If it has that sticker on the packaging then it's EPP compatible, if it doesn't then it's not.
PCSTATS Test Methodology
On AMD test systems, we're only interested in seeing how high we can go with the memory running 1:1, as running with other dividers puts the overclocking bottleneck elsewhere and not with the system memory. The DDR2 RAM latency must run at its lowest possible setting, as quick access is more important to the CPU design. Just for arguments sake, we will also be conducting overclocking tests to see how high the memory will go with lax timings (5-5-5-15), although we will only benchmark the system with the tight memory timings mentioned above.
Let's get started with some overclocking next!