Abstract: Do you know the best way to listen to MP3 files on a computer? Winamp, K-kjofol, Sonique... which one's good, which one's suck? Read on to find out!

Home > Reviews > MP3 Players > none
By now, even people without computers know what MP3s are. Every magazine, newspaper, or news program has run stories about this new wave of digital music. People with computers, however, want to know the best way to listen to MP3 files. While most computers have Windows Media Player or Real Player (both of which will play MP3s), there are several programs on the market that will play the music, and it seems like each one is trying to be unique to attract "customers." The word is in quotes because most of these products are available free of charge.
---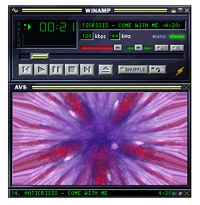 Nullsoft's Winamp is the most popular player out there. Because it has the most users, it also seems to have the most options. It can be as big as your screen, or tiny toolbar running across the top of your monitor. While the basic program is an easy-to-use player, showing your playlist and graphic equalizer, there are a variety of "skins" and "plugins" that make Winamp customizable. With different skins, you can change the look of your player. Instead of being a black box, it can be a picture of your favorite TV star or a futuristic looking panel, among thousands of other options. Plugins allow you to make Winamp perform different tasks such as display colorful graphics that bounce and change to the beat of the music you are listening to. Other plugins allow you make the program do a variety of different things, making it a very popular choice for MP3 listeners.
Winamp by Nullsoft

www.winamp.com
Download size: 2MB

Comment: It's easy to use, it works well, it has thousands of options& Maybe that's why 9.8 million people downloaded it last year.
---
Sonique by Media Science is another hip and trendy choice for a player. Its menu actually makes it the easiest player to use. It gives you options such as "playlist editor," "visual mode," and "audio controls." The original player is very nice to look at, but again, can be changed with a variety of skins. Just like Winamp, Sonique can change color, shape, and style. It also has a visual display that changes with the beat of the music. These displays are downloadable from the Sonique website, as are several skins, and other plugins. The player fills about a quarter of the screen, but can easily be switched to two smaller sizes, the smallest about the size of a AA battery. Another easy-to-use, highly customizable, player.
Sonique by MediaScience

www.sonique.com
Download size: 1.9MB
Comment: It's a little prettier than Winamp, a little easier to use&
And a little less-known.

---

PCDJ by VisioSonic is an example of a player trying to be a little unique. It is less an MP3 player than it is a mixer for wannabe DJs. It shows you two players you can use, audio controls for each one, and a mixer between the two. You can play two different songs, speed them up or slow them down, switch between the two, or play them together. While one is playing, you can load a different song to the other player. Another feature is that it has Windows Media Player built in, so you can watch some videos, and mix them with MP3 audio. It is a very big player, however, and not very pretty. It is a program youwould sit down and USE, not one you would turn on and listen to as you did other things with your computer.
PCDJ by VisioSonic

www.visiosonic.com
Download size: 2.6MB
Comment: So you want to be a DJ? Try this&
So you want to listen to MP3s? Try something else.
---


Contents of Article: none

---

Pg 1. — MP3 Players: so many choices...
Pg 2. More players....


SEARCH PCSTATS

---

Use the power of Google to search all of PCSTATS and the PCSTATS Forums. Tell us what you think of this new feature - FEEDBACK?