As amazing as modern computer video games look, the dawning of a new graphical era is actually upon us. For gamers, the impact of Microsoft Windows Vista will be felt squarely on all non-DirectX 10 compatible videocards. If you want to run the latest and greatest games on your PC, you will have to upgrade to Windows Vista, and upgrade your videocard to a GPU that is DirectX 10 compatible. Neither option is possible in Windows XP.
Microsoft Vista pushes current computer technology pretty hard on its own, so if you're running a computer more than two years old it might be time for a total system upgrade, if not a massive hardware overhaul. The first thing on the short list of parts to upgrade is memory, specifically making sure that Windows Vista has at least 2GB of RAM to dip its fingers in. A dual core processor is a nice touch, and of course a DirectX 10 compliant videocard if you plan on treating yourself to the newest in eye candy.

Both nVIDIA and ATi have worked feverishly to ensure compatible parts are there to support Microsoft Windows Vista. The nVIDIA GeForce 8800GTX and GeForce 8800 GTS are the starting salvo, and more cards will come as 2007 unfolds. These high end nVIDIA videocards promise a lot, and even though there are no DirectX 10 games to test with at the time of this writing, the the Geforce 8800-family promises to rule the DirectX 9 landscape too.
The MSI Computer NX8800GTX-T2D768E-HD is the companies' flagship nVIDIA-GPU based PCI Express x16 videocard. This massive slab of chips and thermal solution is built around an equally large nVidia 'G80' GeForce 8800GTX core. The videocard has a 768MB frame buffer, and supports both DirectX 10, OpenGL 2.0, and 128-bit HDR standards.
The Geforce 8880GTX GPU operates at 575MHz, and the 768MB of memory runs at 1800MHz. As you might expect, the NX8800GTX-T2D768E-HD is High Definition compatible in every way that counts.
The card has dual DVI outputs (up to 2048x1536 resolution), an S-video/TV output, and handles HD content via its Component Output cable and HDMI output through DVI so long as you have the appropriate DVI-to-HDMI adaptor. The NX8800GTX-T2D768E-HD is fully HDCP compliant.

MSI NX8800GTX-T2D768E-HD Videocard




Includes:

Driver CD, Utilities CD, Serious Sam II CD, S-Video Cable, Component Cable, 2x DVI to analog converters, 2x Molex to 6 pin power cables
All this DirectX 10 super videocard goodness for $693 CDN ($613 US, £314 GBP). For your hard earned cash MSI see fit to bundle in a full copy of Serious Sam II, and some various DVD and video utilities. The package is a little bit underwhelming, Serious Sam II is not a recent game title, but it should keep you busy for a good weekend or so.

There is no getting around the fact that the MSI NX8800GTX-T2D768E-HD is a beast. This is a massive videocard, it requires two six pin PCI Express power connectors to run, two full PCI slots worth of space, and who knows how big its carbon footprint really is. nVidia's latest generation of high-end videocards use a lot of power, most of which gets translated into heat that has to be exhausted out of the system.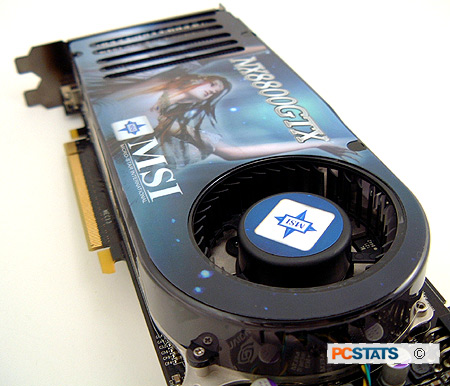 It makes us wonder when we're going to start to see nVIDIA show some leadership on this issue, and reduce the power consumption of its videocards? Power efficiency is a good thing, and the thought of more gas guzzling H3-like videocards hitting the streets is not in step with the times.