If you plan on building a computer system with the idea of overclocking it to the next level, it's really the memory you choose that determines if you're going to be successful. Good quality enthusiast memory is like the key to unlocking the potential of your computer. Of course, just increasing the frequency of the system memory will only net a modest performance gain from overclocking. Modern computers are designed for a certain amount of memory-to-processor bandwidth, which happens to be just satisfied by the DDR2-800 standard. If memory bandwidth alone is increased, the computer just has more bandwidth than really needs.
The magic happens when you start to overclock the rest of the computer in line with the memory. With memory that can run at high speeds, it guarantees that your PC will never be bandwidth limited. If you remember back to the Pentium 4 days, running SDRAM or single channel DDR severely limited the processor's performance because the memory just couldn't keep up.
Now a days, when it comes to overclocking the socket AM2 AMD Athlon64 or Intel Core 2 Duo processors, you're in luck because there's a ton of enthusiast friendly DDR2 memory on the market. From super high speed memory to low latency DDR2, whatever the flavor you're looking for, you'll find. Of course you can find memory from the big enthusiast memory manufacturers like Corsair, Kingston, Crucial and OCZ. Others like MA Labs Supertalent are challenging the old guard with surprising set of enthusiast grade RAM. In this review, PCSTATS will be testing Supertalent' 2GB kit of T10000UX2G4 modules, paced at a friendly DDR2-1000 level.
SuperTalent 's latest memory, a pair of 1024MB T1000UX2G4 modules, has some pretty impressive specifications. The 2GB PC2-8000 memory kit is rated to run up to 1000 MHz with CAS Latency timings of 4-5-4-12. This 2GB SuperTalent T1000UX2G4 dual channel memory kit retails for about $464 CDN ($400US, £204 GBP), and that is pretty competitive for memory of this caliber.

SuperTalent T1000UX2G4 DDR2 Memory
RAM Memory Type: DDR2-1000 / PC2-8000
Individual Module Capacity: 1024MB
Native Speed & Latency: 1000 MHz @ CAS 4-5-4-12
Enhanced Performance Profiles (EPP): No
The SuperTalent T1000UX2G4 modules are not as flashy as some of the Corsair DOMINATOR DIMM's PCSTATS has seen recently, but then who really cares... memory is memory, and it's the DRAM on the inside that actually matter. SuperTalent place two blue aluminum heatspreaders on either side of the DIMMs, these draw heat away from the DRAM and protect the stick from physical damage. With higher voltages being applied to overclocked memory, we found that the heatspreaders here performed well. At stock settings, they're really just for show.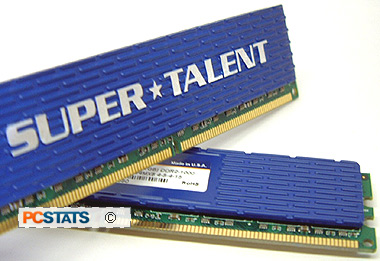 The SuperTalent T1000UX2G4 dual channel DDR-2 2GB kit is rated to run at DDR2-1000 or PC2-8000 speeds with memory CAS Latency timings of 4-5-4-12, at a voltage of 2.2V. The SPD is set to JEDEC DDR2-800 standards, so don't forget to manually adjust the timings when tweaking and overclocking.
Please note the SuperTalent T1000UX2G4 does not support EPP. Not a big deal though, EPP is more of a newbie thing and if you're overclocking you're no doubt a vet. ;-)
PCSTATS Test Methodology: On Intel Socket 775 Core 2 Duo test systems, we're only interested in seeing how high we can go with the DDR-2 memory running 1:1, as running with other dividers puts the overclocking bottleneck elsewhere and not with the system memory. The DDR-2 RAM latency must run at its lowest possible setting, as quick access is more important to the CPU design. Just for arguments sake, we will also be conducting overclocking tests to see how high the memory will go with lax timings (5-5-5-15), although we will only benchmark the system with the tight memory timings mentioned above. Let's get started and overclock these blue babies!