Foxconn is one of the largest computer component manufacturers on the planet, and when it wants to move into a new market, it makes an immediate impact. Foxconn motherboards are a force to be reckoned with, so much so that earlier this year Asus and Gigabyte, two heavyweights in their own right, merged.
The secret to Foxconn's incredibly quick success is that the company manufactures mainstream and inexpensive motherboards right alongside killer fast rigs your neighborhood overclocker would give his best optical mouse for. The build quality is certainly there (Foxconn also makes most of the little connectors and things), features and boxed extras are plentiful, and the list of features on high end parts is second to none. Foxconn quality is what drives words like this from PCSTATS, 'nuff said.
Foxconn is now branching off into retail videocards, using that same "quality first" approach it applied to motherboards. The Foxconn Geforce 8800GTS 320MB videocard is the first graphics card to hit the PCSTATS test bench, and along side what is a pretty standard reference PCI Express offering is a full fledged PS2-like USB game controller! Sweet!
Games like Rainbow Six: Las Vegas push the limits of the current videocard technology, luckily next generation videocards like the GeForce 8800GTX can smooth out the wrinkles... for the cost of an entire entry level PC. The GeForce 8800GTS 640MB looks like a decent alternative to the full fledged Geforce 8800GTX model, but it's still a bit pricey. Following in the footsteps of the 640MB 8800GT videocard is the GeForce 8800GTS 320MB model. With 320MB of onboard GDDR3 memory and the Geforce 8800GTS GPU, this puppy is getting a lot of attention from gamers who want speed without spending too much.

Foxconn FV-N88SMCD2-ONOC Videocard




Includes:

Driver CD, Utilities CD, Serious Sam II CD, S-Video Cable, Component Cable, 2x DVI to analog converters, 2x Molex to 6 pin power cables
The Foxconn FV-N88SMCD2-ONOC (that's a mouthful) videocard comes pre overclocked pretty heavily from the factory.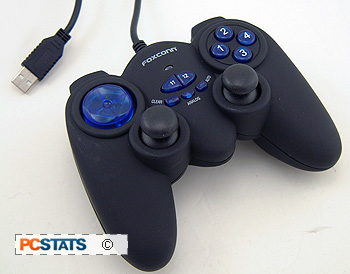 The stock speed of a vanilla GeForce 8800GTS 320MB videocard is 500MHz core and 1600MHz memory. Out of the box the Foxconn FV-N88SMCD2-ONOC spins its wheels at 575MHz core and 1800MHz memory - the geeks in the crowd will recognize those numbers - that's as fast as a stock Geforce 8800GTX videocard!
Based on NVIDIA's G80 architecture, the Geforce 8800GTS GPU relies upon a unified architecture which allows it to dynamically allocate processing power to geometry, vertex, physics, or pixel shading operations. We'll get into the hot and heavy details a little later in this review, but the highlights of this GPU include; DirectX 10 Shader Model 4.0, DirectX 9.0 and NVIDIA Quantum Effects technology for physics computation, and 96 stream processors.
The Foxconn FV-N88SMCD2-ONOC incorporates a Shader clock running at 1200MHz, output display resolutions as high as 2560x1600, HDCP (High-bandwidth Digital Content Protection) and High Definition resolutions up to 1920 X 1080i.
The videocard has two Dual DVI-I video connections, comes with two DVI-to-analog adaptors, and a dongle cable for the SVideo / Component output signals (Y, Pb, Pr). Foxconn's FV-N88SMCD2-ONOC PCI Express x16 videocard retails for a very aggressive $347 CDN ($300US, £152 GBP). The videocard supports the Microsoft Windows Vista operating system.
nVidia Reference Videocards Dominate - Features Differentiate
The Foxconn FV-N88SMCD2-ONOC is based entirely on the nVidia reference design. In fact the only thing different about the FV-N88SMCD2-ONOC is that it has a Foxconn sticker on top of the default sticker, and a special videocard BIOS which pre-overclocks the GDDR3 memory and G80 GPU. Compared to the full fledged 768MB GeForce 8800GTX videocard, the GeForce 8800GTS 320MB videocard is a bit shorter. The 8800GTS only requires a single PCI Express power connector and has just one SLI bridge connector. The videocard still requires a large dual slot cooler so make sure the adjacent expansion slots are free. The 60mm fan is temperature controlled and for the most part runs too quiet to notice when installed into a case.

Make no mistake about it, the Foxconn FV-N88SMCD2-ONOC generates a ton of heat. If you plan on using a next generation videocard like this in your computer make sure you have good case cooling. One nice thing about the FV-N88SMCD2-ONOC is that the cooler works as an exhaust fan, pushing the hot air it generates out the back of the computer.
Since it's the features that really differentiate videocards from one manufacturer to the next, you can imagine we were pretty surprised to find a full sized game controller tossed in for free with the Foxconn FV-N88SMCD2-ONOC. That's up next!