ECS has made huge strides in improving its image. It's no longer just the OEM and entry level behemoth, ECS is now a mainstream motherboard maker for the masses. Reputation is something that's hard to change but ECS has done an excellent job at changing people's perception of its products.
So what does one look for in a mainstream motherboard? For starters lots of integrated goodies, good performance, a good list of bundled accessories and some nice tweaking and overclocking options. ECS offers all this and then some! The companies Extreme line of motherboards have really put ECS on the retail map, bundled with more accessories than you can shake a stick at.
The latest ECS motherboard to pass through the PCSTATS test labs is the ECS PN1 SLI2 Extreme. The motherboard is based on the nVIDIA nForce 590 SLI Intel Edition chipsets (nForce 590 SLI SPP and nForce 590 SLI MCP), so it supports a whole host of multi-videocard gaming arrangements. The PN1 SLI2 Extreme motherboard supports Intel Core 2 Duo/Quad/XE, Pentium 4/D/XE and Celeron D processors running on a 533/800/1066 MHz FSB, in the all familiar Socket 775 form factor.
In terms of features the ECS PN1 SLI2 Extreme supports six Serial ATA II channels (with RAID 0, 1, 0.1 and 5 support) dual Gigabit network cards, a 7.1 channel High Definition Azalia audio controller and IEEE 1394b. The board has four DDR2 DIMM slots which can accommodate up to 8GB of DDR2-800 memory. There are a ton of expansion options too. The PN1 SLI2 Extreme has two PCI Express x1 slots, a PCI Express x4 slot, two PCI Express x16 slots for SLI, and finally two 32 bit PCI slots to round things out.

ECS PN1 SLI2 Extreme Motherboard



Includes:

User's Manual, Driver CD, Hardware Installation Guidebook, (2) Ultra/133 IDE Cables, Floppy Cable, (4) Serial ATA Cables, I/O Shield, BIOS backup, 3.5" Front Panel, Parallel port bracket, eSATA bracket, USB/firewire bracket, 6-foot Ethernet crossover cable, SATA power splitter.



The overall layout of the ECS PN1 SLI2 Extreme is pretty good and setting things up should be a breeze. If you do run into a problem, ECS has done an excellent job with its User's Manual and it will no doubt be able to guide you through the hardware and software installation process.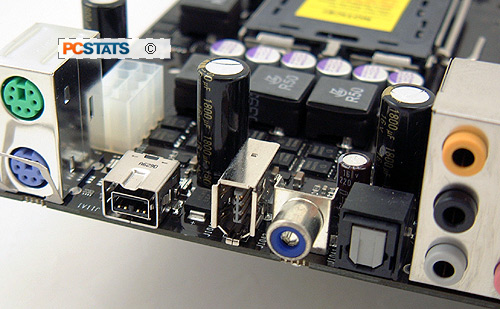 It's particularly impressive that the ECS PN1 SLI2 Extreme motherboard is equipped with a Texas Instruments TSB82AA2 IEEE 1394b controller.
In most cases IEEE 1394a and USB 2.0 are neck and neck in terms of bandwidth (although IEEE 1394a does have lower CPU consumption) but IEEE 1394b handily beats both with an impressive 800Mb/s worth of bandwidth! That is essentially double what the other external interconnect standards offer. The TSB82AA2 controller runs through the PCI bus, so if you have another high bandwidth PCI device, there is potential for a bit of bandwidth trouble.... but this is unlikely in most situations.
ECS places both an IEEE 1394b and 1394a ports on the rear I/O along with four USB 2.0 ports. In terms of connectivity, the rear I/O supports all the standard interconnects, except for a printer port. The printer port is included as a bracket along with the ECS PN1 SLI2 Extreme. There are also three USB 2.0 and one IEEE 1394a internal headers available for expansion brackets.
The nVIDIA nForce 590 SLI Intel Edition chipsets are known to generate a fair amount of heat, yet instead of fancy heatpipe cooling solution ECS has opted for two diminutive active chipset heatsinks. The heatsinks are equipped with 40mm fans which connect to the motherboard via three pin headers. During operation the fans ran pretty quiet and were not noticeable once installed into a case. As mini fans often do, should they fail in the future the heatsinks are easy to replace.
If you plan on running a high end Intel Core 2 Duo CPU on this platform, we'd advise you to upgrade your power supply to an ATX2.0 compatible model with an ESP12V connector. The ECS PN1 SLI2 Extreme will work with 20-pin power supplies, but older units are not designed to handle the power requirements of modern computers with multiple videocards. A compatible power supply is definitely required if you plan on running a dual videocard setup, one with at least 30A+ capacity on the 12V line to be specific. This Corsair HX620W PSU is a great choice.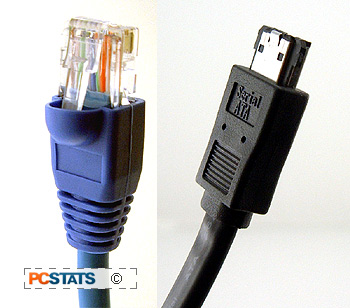 For easy networking ECS include a 6 foot CAT 5 cable with the motherboard. Handy if you need to connect your machine to another without having a hub or switch.
External SATA Goes Standard
External Serial ATA is a great feature for motherboards, and we're always happy to see this little port. When it comes to external mass storage, bandwidth has always been an issue, and Serial ATA makes even IEEE 1394b's 800Mbps bandwidth look paltry by comparison. The ECS PN1 SLI2 Extreme supports a eSATA port via an expansion bracket.
External SATA enclosures for SATA hard drives are widely available, and the great thing is that hard drives connected over this standard are just as fast as internal devices. The connectors are hot swapable, so it makes adding and removing an massive external hard drive about as complex as plugging in a USB memory key.
For anyone who as ever had to move Gig's of data over a USB cable, eSATA is simply awesome.