Games like Rainbow Six: Las Vegas and the upcoming Ghost Recon: Advanced Warfighter 2 title are pushing modern videocards to the limits. If you like shooters, those are a couple of titles that you definitely don't want to miss. Just make sure your rig is up to snuff because playing games with minimal details doesn't do them any justice.
When you turn up the eye candy by enabling anti-aliasing and or anisotropic filtering, the computational demands on the videocard skyrocket. Good thing nVIDIA's next generation G80 GPUs are upon us! Most of the hype has been about the GeForce 8800GTS 320MB version, and for good reason. It offers the best value of any GeForce 8800-series, and most importantly has a down to Earth price tag.
The MSI NX8800GTS-T2D320E-HD-OC is one such graphics solution, and in typical MSI fashion the company promises that its version will be faster than the vanilla GeForce 8800GTS. On top of this, MSI bundle in a full copy Company of Heros, one of the best real time strategy games to come out in the last couple months. If you are an RTS fan, this game will definitely consume more than a full weekend of your life. ;-)
As you might expect, the PCI Express x16 based MSI NX8800GTS-T2D320E-HD-OC videocard natively supports dual digital or analog monitors through dual DVI outputs. The package includes two DVI to analog converters, a S-Video and component output bracket cable. If you're using an older power supply (and that is a bad idea), there is a dual molex to six pin PCI Express power connector so the graphics card will get all the juice it demands. With a retail price in the neighborhood of $366 CDN ($316USD, £161 GBP) the brick sized MSI NX8800GTS-T2D320E-HD-OC videocard is one of the more affordable GeForce 8800GTS 320MB solutions out there. Since virtually all Geforce 8800GTS graphics cards are based on the same nVidia reference design, you might as well get the least expensive option when you go window shopping this weekend.

MSI NX8800GTS-T2D320E-HD-OC Videocard




Includes:

Driver CD, Company of Heroes DVDs, 2x DVI to Analog Converters, Component Output Cable, S-Video Cable, Dual Molex to PCI-E Six pin Power Connector
The only real difference between one vendor's Geforce 8800GTS and the next is that MSI pre-overclock the NX8800GTS-T2D320E-HD-OC pretty heavily from the factory. The stock speed of a vanilla GeForce 8800GTS 320MB videocard is 500MHz core, 1600MHz memory. Out of the box this MSI NX8800GTS-T2D320E-HD-OC spins its wheels at 575MHz core and 1700MHz memory.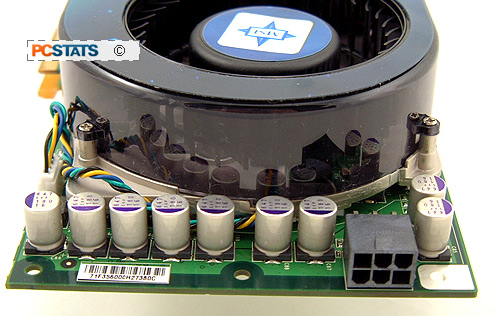 Based on NVIDIA's G80 architecture, the Geforce 8800GTS GPU relies upon a unified architecture which allows it to dynamically allocate processing power to geometry, vertex, physics, or pixel shading operations. We'll get into the hot and heavy details a little later in this review, but the highlights of this GPU include; DirectX 10 Shader Model 4.0, DirectX 9.0 and NVIDIA Quantum Effects technology for physics computation, and 96 stream processors. Yummy!
MSI's NX8800GTS-T2D320E-HD-OC incorporates a Shader clock running at 1200MHz, output display resolutions as high as 2560x1600, HDCP (High-bandwidth Digital Content Protection ) and High Definition resolutions up to 1920 X 1080i.
nVidia Reference Videocards Dominate - Features Differentiate
You don't need to be a computer expert to recognize that MSI's NX8800GTS-T2D320E-HD-OC is based entirely on the nVidia reference design. In fact the only thing different about the NX8800GTS-T2D320E-HD-OC is that it has a MSI sticker on top of the fan, and perhaps more crucially, a special videocard BIOS that pre-overclocks the GDDR3 memory and G80 GPU.
Compared to the full fledged 768MB GeForce 8800GTX videocard, the GeForce 8800GTS 320MB videocard is a bit shorter. It requires a single 6-pin PCI Express power connector and has just one SLI bridge connector. The videocard requires a large dual slot cooler, and so it's generally a good idea to make sure the adjacent expansion slot is free. The 60mm fan is temperature controlled and for the most part runs too quiet to notice when installed in a case.

Make no mistake about it, the MSI NX8800GTS-T2D320E-HD-OC exhausts a ton of heat. If you plan on using this next generation videocard in your computer, good case cooling is a wise measure. One nice thing about the NX8800GTS-T2D320E-HD-OC is that the heatisnk pushes hot air out the back of the computer chassis, rather then just mixing it around inside the case.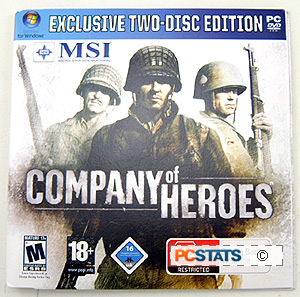 Company of Heroes:
MSI always seems to make an effort to include excellent software bundles with its videocards. With the NX8800GTS-T2D320E-HD-OC, PCSTATS finds the Real Time Strategy (RTS) title, Company of Heroes. Company of Heroes was one of the highly acclaimed games of 2006. Based in World War 2, the game has pretty stunning visuals for a RTS and best of all the game has a good story line that makes it fun to play through.
Company of Heroes is fairly intense in what it demands of a computer system, and you're recommended to have a good videocard before diving in. Needless to say, the MSI NX8800GTS-T2D320E-HD-OC is sufficient. MSI bundles the DVD version of the game so you'll have to have a DVD-ROM installed in your system to use the discs. I'm particularly happy that MSI includes the DVD version instead of a pile of CDs, fumbling around with five discs is a real pain.
As an RTS fan I have to say, Company of Heroes is pretty addictive and you'll no doubt be playing the game for a good couple of weekends. With online multiplayer abilities, it's a game that you can be played for quite some time, an excellent title to bundle with the MSI NX8800GTS-T2D320E-HD-OC videocard for sure.
Features really differentiate one videocard from the next, and MSI's Dual Core Center overclocking utility helps tune this slab of PCB from quick to quicker. That's coming up...