Connecting an external hard drive to your computer is a quick and simple way to expand storage capacity, and it comes without the hassle of diving inside the PC and messing with all those wires, cables and connections. If you use a notebook as your primary computer, an external hard drive brings with it much needed added storage capacity that is otherwise hard to implement.
It's best to have a phillips screwdriver handy, but apart from that, all you need to get the Data Tech DS350 up and running is a 3.5" serial ATA hard drive with a SATA power connector. The DataTec DS350 is only suited to desktop computers with an external Serial ATA connection at the ready. While many external hard drive enclosures will have a multiple of data connections to select from (SB2.0, Firewire, eSATA, LAN, etc.), the DS350 only supports eSATA. For this application, eSATA is ideal, and one of the quickest options too. External Serial ATA is a very quick data transmission standard, and compared to USB2.0 or Firewire it's better because there is no difference in speed compared to an internal SATA hard drive.
The DataTec DS350 is a compact aluminum external eSATA hard drive enclosure that stands upright, or rests horizontally. The unit connects to a desktop PC over one eSATA cable, and only over eSATA. The unit retails for about $40 USD ($50CDN / £20GBP) and comes with a stand, power brick, and 6 foot long shielded eSATA cable. The enclosure is slightly larger than a 3.5" hard drive, and is powered by an external power brick.

DataTec DS350 External HDD Enclosure

Includes:

Installation Guide, Screws, eSATA cable, Stand, AC power adaptor.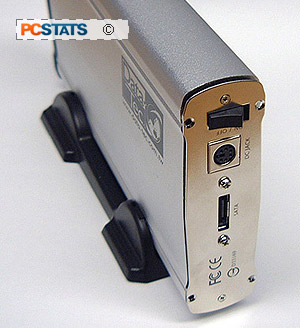 Of the all data transfer options available to external hard drive enclosures, eSATA is by far the best. It operates at 3GB/s SATAII or 1.5GB/s SATA, the same as internal hard drives do. The DataTec DS350 supports External SATA only, which is slightly odd as most stand alone hard drive bays also provide for a USB2.0 data connection, or occasionally Firewire too.
With the DataTec DS350, regardless of what computer the external hard drive enclosure connects to, your data is portable and always within easy reach.
The unit is a solid aluminum shell, and comes with a vertical support stand. At the rear of the external chassis is a power connection, the eSATA data port, and an on/off switch. On the front of the HDD caddy is a bright blue status LED.
The DataTec DS350 is powered by an AC adaptor, and comes with a 6 foot shielded eSATA cable. The unit must be plugged in to operate, as eSATA does not supply power to a hard drive.
The installation guide is a one page affair, but detailed enough to be useful, drivers are not necessary since SATA is transparent to the PC system.
Next up we'll go over getting the DataTec DS350 running, and talk about the differences between eSATA and SATA.