The nVIDIA GeForce 6100 series was innovative because it had three of the things that everyone wants. Onboard video is unmistakably at the top of this list (and a heck of a lot better than anything Intel offered), dual monitor support through DVI or analog and just as enticing, component output. High Definition video output is the practical feature to hit the motherboard since networking and as games and video content all transition to this format, anyone stuck in standard definition is really missing out. We all know that High Definition has been the motivating factor in the movie industries, in television and home theatre and shortly in games. Both nVIDIA and AMD have siezed on the consumer's lust in anything "HD" and consequently chipsets such as the GeForce 6150, recently introduced AMD 690G, and today's nVIDIA GeForce 7050PV are set to be the hottest ticket in town.
The two single largest features of the AMD 690G and nVIDIA GeForce 7050PV chipsets are native HDMI output and High Definition Content Protection (HDCP). Both chipsets are currently AMD only affairs, but with the extremely competitive pricing of AMD's Socket AM2 chips it's the perfect opportunity to build that small home theatre PC you've always wanted to have. After all it would be nice to watch all those illegally downloaded bit torrent movies on something larger than a computer monitor. If you're going to rip movies, you might as well watch them in HD, in full surround sound, and get the best bang for your buck. ;-)
You might be surprised to hear that the nVIDIA GeForce 7050PV is not a quantum leap over the GeForce 6150 series. In fact the former is more of a modest upgrade, with some small changes here and there and patches for some of those issues with the previous chipset. Most importantly is the inclusion of native High Definition Multimedia Interface (HDMI), this is the little USB like data connector which transfers HD video and audio content to all modern HDTVs. HDMI replaces the component output and RCA video jacks with just one simple compact cable that provides better video and audio quality. HDCP support is important because it unlocks the full quality content from Blu-Ray and HD-DVD discs.

Biostar TF7050-M2 Motherboard



Includes:

User's Manual, Driver CD, Ultra/133 IDE Cable, Serial ATA Cable, Floppy Cable, Molex to Serial ATA Power Cable, I/O Shield, Accessories Bag
Now that you know what's at stake for computers and high definition content, it's time to introduce the Biostar TF7050-M2 motherboard. This diminutive MicroATX platform is the first board PCSTATS has tested based on the nVIDIA GeForce 7050PV/nForce 630a chipset. Considering it supports everything we've just mentioned, this board looks mighty fine. The Biostar TF7050-M2 is an AMD platform, supporting every x86-64 Socket AM2 up to the latest Athlon X2 6000+ (Sempron included). It may be small but the TF7050-M2 can accommodate up to 4GB of dual channel DDR2-800 (PC2-6400) memory to handle the most intensive applications. nVIDIA technically states that the chipset will support up to 16GB, but that number is totally impractical right now.

The GeForce 7050PV incorporates GeForce 7 series graphics onboard which is DirectX 9.0C compatible, and shares up to 256MB of system memory. Onboard goodies include four 3Gb/s Serial ATA II ports (RAID 0,1, 0+1, 5), one IDE channel, a Gigabit network jack, a 7.1 channel High Definition Azalia sound card including two channel audio for HDMI.
Expansion options include 10 USB 2.0 jacks (four on the rear I/O, six via headers), a PCI Express x16 slot for videocards, a PCI Express x1 slot for high bandwidth peripherals and two 32 bit PCI slots for legacy devices. All this and the Biostar TF7050-M2 motherboard retails for $98 CDN ($90 USD, £43GBP) .
The Biostar TF7050-M2 is a MicroATX motherboard and as you'll notice there is no Southbridge. The component layout is easy to work with and headers for the Serial ATA ports, USB slots and expansion slots are accessible. I do not like the type of PCI Express x16 videocard lock that Biostar chose because the tiny tab is almost impossible to reach. When there are large videocards with dual slot solutions, removing the videocard is a real pain. As we'll explain momentarily the HDMI jack shares the same port that the DVI connector would have so the two cannot be used at the same time, but I really would have liked to have seen a DVI connector on the TF7050-M2. That would have at least given me the option of using a digital display in place of HDMI.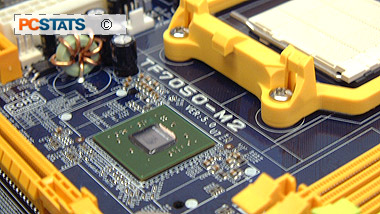 Accessories in the box
There is a mesh bag with all the motherboard accessories inside the box that is great for keeping all the bits and pieces together. In terms of accessories that's about it though. On the motherboard we find a nice hard power and reset switch which certainly makes tuning the TF7050-M2 motherboard before it goes into the case much easier. Little features are appreciated from our end.
The GeForce 7050PV Northbridge and nForce 630a Southbridge are integrated into a single core logic die. The tiny chipset hardly takes up any space, and only requires a single small aluminum heatsink to keep cool. The GeForce 7050PV gets pretty warm when running so you'll want an exhaust fan in your case to expel hot air.
It's difficult to say how relevant HDCP is right now but consider it insurance that the Biostar TF7050-M2 is High Bandwidth Digital Content Protection compliant. HDCP is a form of Digital Rights Management developed by Intel for high definition digital video and audio content. Whether you like it or not, when used the HDCP signal travels through the DVI or High Definition Multimedia Interface (HDMI) to HDCP compatible display's in order to protect the content from illegal duplication. This is supposed to ensure that only legitimate High Definition content is played, so if the HDCP keys don't match or are missing content plays at a reduced quality. This standard was spearheaded by the movie industry in an attempt to combat piracy, yay. In any case the Biostar TF7050-M2 is ready if HDCP truly does become a global standard, which we all hope it doesn't.
PCSTATS will be testing the GeForce 7050PV ability to play back High Definition content with reduced CPU loads next, but first lets take a closer look at why this chipset is so special.