GlacialPower uses a standard grey SECC coated steel casing for the GP-PS550BP power supply. When inserting the power supply into a case be careful with the warranty sticker, it's placed on the side and can be scrapped off if you're not careful. On the bottom of the power supply we find the PSU specification sticker.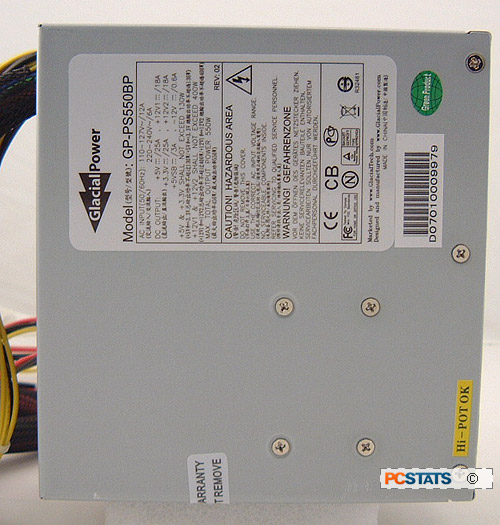 The back of the GlacialPower GP-PS550BP looks like any other power supply, there's the power plug, a hard power switch, the 115/230V switch and of course the 80mm exhaust fan behind a wire fan grill.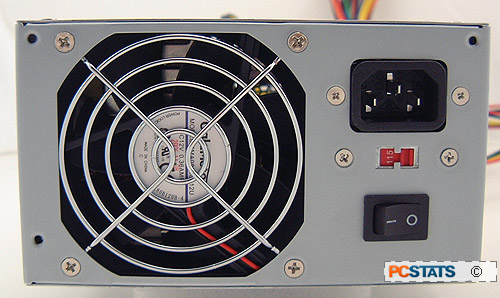 The fan reacts to the temperature inside the power supply and will adjust its speed accordingly. At less than 20% load, the fan dose not even spin up, when passing 20% the fan is in quiet mode which generates 20dB of noise. At 100%, the fan is only rated to generate 26dB of noise - pretty quiet.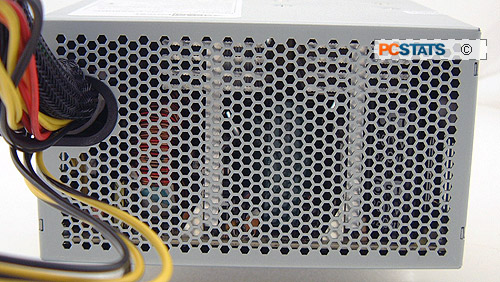 GlacialPower wraps the main ATX power connector in a wire loom with heat shrink to keep things tidy. The GP-PS550BP comes with two Serial ATA connectors, five molex power connectors, one floppy power connector and two 6 pin PCI Express videocard power connectors.
Considering the wattage rating of the power supply, we would have expected more Serial ATA and molex connectors to be available. GlacialPower uses a honey comb grill which allows air into the power supply with the least amount of turbulence. The main ATX power connector is 50cm in length, as are the accessory cables up to the first power connector. If you have a large case you may find that the cables are a bit short.
Next up, a look inside and then load testing.