Getting into the GlacialPower GP-PS550BP is no easy task, the casing is designed differently from traditional power supplies. Inside we see a fairly average mix of heatsinks, capacitors, filters, transformers and other components.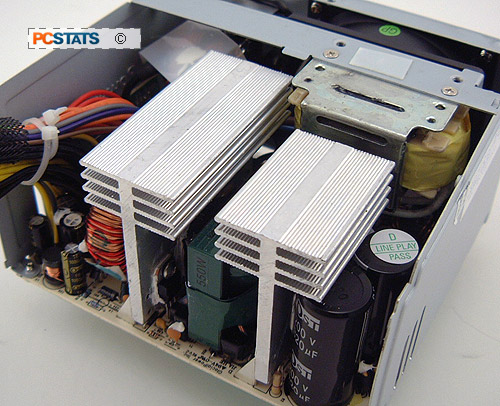 The fuse is soldered in place, and the fan leads are soldered to the PCB as well - so effectively there are no user serviceable parts here, and replacing the fan several years down the road will be tricky. Up next, power supply load testing.
Testing the GlacialPower PSU
The price of energy is increasing world wide, so any reduction in the amount of power a computer draws is a welcome change in our books. Power supplies which employ Power Factor Correction (PFC, or A-PFC) help ensure efficient conversion of AC to DC voltage, and reduce the amount of energy wasted as heat. The following power supply tests were all conducted with an Extech Model 380803 Power Analyzer located between the mains 120AC supply and the power supply, and with a 120W dummy load. Power jitter is measured with a Mastech MS8230B Multimeter at the device power connectors. The test apparatus and power meters are shown below.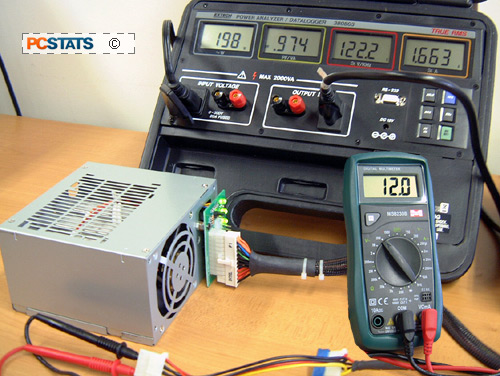 Here is a picture of the PCSTATS test set we'll use to evaluate the power supply. The power supply looking device is actually a 120W dummy load.

Power Jitter Observations - Motherboard
Voltage jitter is read by accessing the power options displayed in the motherboard BIOS, with the system obviously in an unloaded state. *All voltages were read from the BIOS of an Asus A8N-SLI Premium motherboard.
The GlacialPower GP-PS550BP power supply provides some pretty stable voltage values, at least according to the motherboard. let's see what a multimeter says next.
Voltage jitter was read by a Mastech MS8230B Multimeter with the system in an unloaded state. During testing the power supply is was still connected to a full computer and voltage values.
Readings from the multimeter show that the GlacialPower GP-PS550BP provides stable power, let's see how efficient the power supply is next.
Next up, power supply load tests.