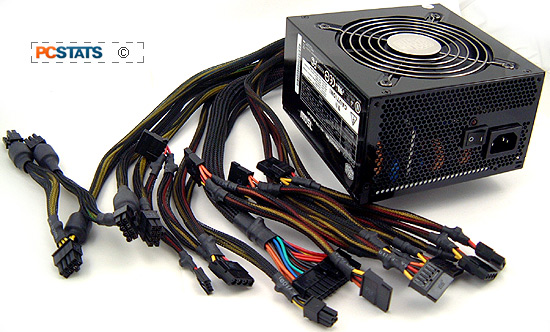 Cooler Master has branched off into many areas, and so far its power supplies are looking good.
The Cooler Master Real Power Pro 750W power supply PCSTATS tested today is a nice unit. It operates at a reduced noise levels care of a big slow moving fan that is thermally controlled, it has good (but not great) power efficiency ratings that will keep heat production down and lessen wasteful power draw, and it looks pretty nice too. Most importantly for gamers, or future gamers, the Cooler Master Real Power Pro 750W has two 8-pin SLI power connectors. Just the kind of plug you will soon need for the future generation of powerful videocards coming from nvidia and ATI.
If gaming is your passion, it would be a good idea to make sure all power supplies you are check out have the new PCI Express 2.0 spec eight pin 12V PCI Express videocard power connector.
On the whole, the Cooler Master Real Power Pro 750W is a good PSU. It clocked in at 76% efficiency, which is pretty damn good. It didn't quite reach the 80% that Cooler Master rates it for, but neither do most power supplies on the market. With a retail price of $179 CDN ($169 USD, £85 GBP), the Cooler Master Real Power Pro 750W is a worthy unit to consider for your next gaming PC!
Find out about this and many other reviews by joining the Weekly PCstats.com Newsletter today! Catch all of PCSTATS latest reviews right here.
Related Articles
Here are a few other articles that you might enjoy as well...
- GlacialPower GP-PS550BP 550W Power Supply Review
- HEC Zephyr 650W Power Supply Review
- Zalman ZM600-HP 600W Heatpipe Cooled Modular Power Supply Review
- Corsair HX620W Modular Power Supply Review
- Seasonic M12 700W Power Supply Review