In the energy conscious world of today it's great to see that electronics producers are making an effort to reduce the power consumption of their products. Both Intel and AMD have decreased the power demands of their latest processors, but unfortunately the situation is not so bright for videocards. By and large nVIDIA and ATI graphics cards consume a lot of power, and with each successive generation those videocard power consumption continues to skyrocket.
Here's one example; the traditional six pin PCI Express videocard power connector provides an additional 75W of power. The nVIDIA GeForce 8800GTX requires two of these connections... and when you add in 75W of power via the PCI Express x16 slot, that's a total of 225W! Now of course the GeForce 8800GTX does not use that much juice constantly, but it's certainly scary to see where things are headed. If you're getting ready to pick up AMD's new Radeon HD 2900XT, well, that card sucks down even more energy!
Adding in the power demands from the rest of the system (hard drives, fans, memory, etc.) just goes to confirm that a good power supply is vital to today's modern PC. There are many models and brands of power supplies on the market, but PCSTATS would suggest sticking to the 80+ certified units, or models with "real world power" ratings.
CoolerMaster may be better known for its processor heatsinks and extravagant cases, but the company has been selling power supplies for a while now with good results. Coolermaster's latest power supply is called the Real Power Pro 750W, and on paper at least the specifications are very impressive. It is rated for 750W of sustained power, 900W peak (this is what most manufacturers usually quote) with a typical efficiency greater than 80%. To top things off, the Cooler Master Real Power 750W comes with two eight-pin PCI Express 2.0 spec power connectors! These are the new kind of power connectors for tomorrow's generation of high end videocards.
With a retail price of $179 CDN ($169 USD, £85 GBP), the Cooler Master Real Power Pro 750W is a little expensive but hey if you're building a high end system there's nothing bad about investing in a good power supply too.

Cooler Master Real Power Pro 750W Power Supply

Includes:

User's Manual, Power Cord, Screws
The Cooler Master Real Power Pro 750W PSU is a standard ATX dimensioned unit (139 x 150 x 85mm), and comes in a glossy black finish. There is one large 120mm fan on the bottom, drawing warm air from the inside of the PC up and out through the rear of the powersupply in a fashion which is typical of virtually all "low noise" PSU's. In operation the Real Power 750 stayed pretty quiet, and as the temperatures rise the fan speed will increase to match.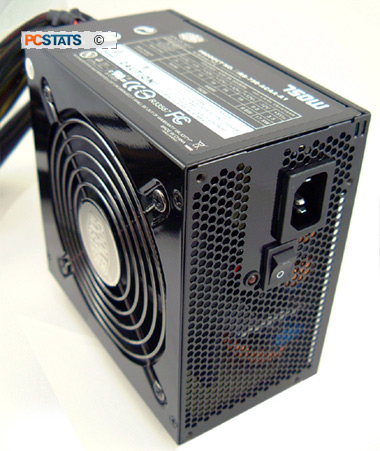 By default the Cooler Master Real Power Pro 750W is compatible with the ATX2.2 spec standard and supports the 24 pin main ATX power connector. A note to users of older motherboards, pins 21-24 are not detachable and there is no 24 to 20 pin converter included. This shouldn't be much of an issue but should be noted in any case. Bundled in are just a user's manual, case screws and a power cord.
According to the Cooler Master label, the +3.3V and +5V lines can deliver 25 amps each for a total power output of 191W. There are four +12V rails which can all deliver 19 amps each, for a maximum power output of 648W.
The Cooler Master Real Power Pro 750W supports Active Power Factor Correction (A-PFC) which improves efficiency, reduces heat and uses less power. A-PFC circuitry eliminates the need for an external voltage level switch (115/230) on the powersupply since it automatically works with a wider voltage range (115VAC of North America to 230VAC of Europe).
Green power supply, the Real Power Pro 750W is RoHS compliant
If you've purchased any computer components the last little while you've probably noticed the little garbage can with an X running in front of it, that is the RoHS symbol. Restriction of Hazardous Substances (RoHS ) is a European Union initiative which targets electrical and electronics equipment.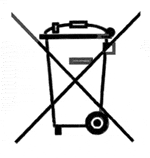 Specifically, RoHS targets heavy metals used in electronic components like Lead, Mercury, Cadium, Hexavalent Chormium, PBB and PDBE. In order to comply with EU's RoHS legislation, all substances must either be removed or reduced to within maximum permitted concentrations. This applies to all electrical components that will be sold within the European Union.
RoHS was introduced as law in European Union on July 1st 2006. Manufacturers caught putting non compliant products onto the EU market will face stiff fines and have their products barred.
While manufacturers are primarily affected by RoHS, the law is also seeking to change how we as consumers handle our old electronics at the end of its life cycle. End users are advised to handle electronic waste as "hazardous waste", and dispose of old electronics through proper waste channels - not simply toss these items into the trash. As the RoHS symbol indicates, it is no longer okay to throw old computer gear into the dust bin.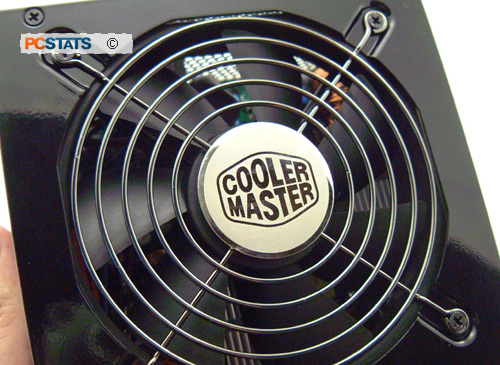 Now that we've covered all of that, let's take a closer look at the Real Power Pro 750W powersupply from a couple different angles, and take a quick peek inside...