Overclocking Results:
Before the overclocking began, we were interested in seeing how high the Patriot PDC22G9200ELK memory would reach when using tighter 4-4-4-12 timings. Starting at DDR2-800 speeds let's see how high the memory will go.
Starting at 800 MHz and going up in 20 MHz jumps the Patriot PDC22G9200ELK handled tight timing overclocking pretty well. At 920 MHz the memory started to display signs of instability but increasing the voltage from 1.8 to 2.0V solved that issue. That allowed the Patriot memory to crack the 1000 MHz mark which is a pretty good feat.
The Patriot PDC22G9200ELK needed another voltage increase, to 2.2V, to reach the 1100 MHz mark, and with its default voltage of 2.3V hit a top speed of an amazing 1170 MHz! That's the second fastest speed we've ever reached with 4-4-4-12 memory timings! Pretty amazing results, and it puts the PDC22G9200ELK in some very select company.
Loosening up the memory timings to 5-5-5-12, we started from 1170 MHz and wanted to see how much farther the Patriot PDC22G9200ELK could go. The Patriot PDC22G9200ELK required a slight voltage increase to 2.4V, and ultimately the maximum PCSTATS was able to squeeze from these puppies was 1260 MHz. That's pretty darn fast if you ask me.... Patriot has some pretty kick ass memory here!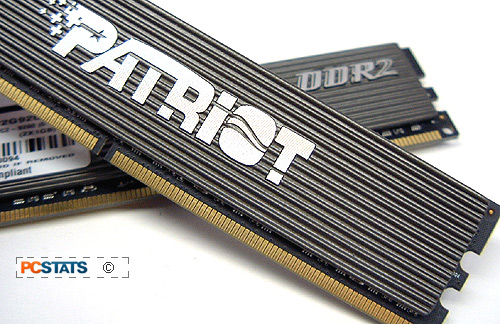 Prelude to Benchmarks
The details of how the Patriot PDC22G9200ELK Performance Edition memory test system was configured for benchmarking, including the specific hardware, software drivers, operating system and benchmark versions are indicated below. In the second column are the general specs for the reference platforms this pair of PC2-9200 DDR-2 memory is to be compared against. Please take a moment to look over PCSTATS test system configurations before moving on to the individual benchmark results.

PCSTATS Test System Configurations