No matter what type of computer enthusiast you are, there's little doubt we'd all trade our best friends for memory that runs with tighter timings, faster clock speeds, and is 2GB or more in capacity. ;-) Particularly in Windows Vista Ultimate, memory makes the world go round. Aside from the processor, memory is the only other component that can dramatically affect the performance of the entire PC. Videocards boost 3D power and large HDDs provide more storage space, but a lack of memory can cripple a computer just as quickly as it can make if fly if you've got the right RAM. Memory has become a pretty complex topic, particularly if you overclock.
When it comes to memory shopping for your computer, flashes of flair complement the quality of the memory rather than make up for its deficiencies. Never ever buy RAM by the way it looks - you're fooling yourself if you do. Good memory is all about the specs, clock speeds and CAS latency timings. Warranty and service/support come second.... and if it just happens to look cool than all the better. However, the appearance of memory modules for a performance tuned computer are totally un-important.
PNY new XLR8 Performance Edition dual channel DDR-2 memory kit promises to match the best of what is available on the market right now. PCSTATS has already showed you what the PNY's XLR8 D22GX85XL-5 RAM is capable of, now it's time to flush out the companies D22GX93XLP-5 XLR8 memory kit.
Composed of two 1GB DDR2-1173 (PC2-9384) sticks of RAM, the PNY D22GX93XLP-5 XLR8 Performance Edition retails for $340 CDN ($310 US, £157 GBP) and boasts CAS Latency timings of 5-5-5-15. PNY have priced the D22GX93XLP-5 pretty affordable too.

PNY XLR8 D22GX93XLP-5 Memory
RAM Memory Type: DDR2-1173 / PC2-9384
Individual Module Capacity: 1024MB
Native Speed & Latency: 1173 MHz @ CAS 5-5-5-15
Enhanced Performance Profiles (EPP): Yes
The PNY D22GX93XLP-5 have fancy heat spreaders attached that stand 45mm tall. Chances are good that these modules will not fit in a MicroATX PC case. ;-) At higher voltages, the large aluminum heat spreaders channeling the heat away from the memory DRAM modules and PCB. If you're into overclocking, you'll want to have good case cooling when using this PNY memory.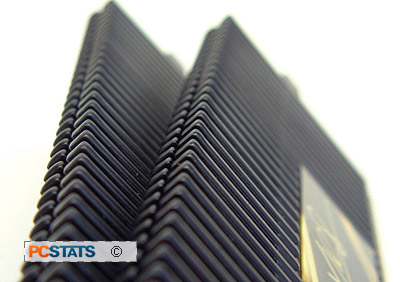 PNY's D22GX93XLP-5 PC2-9385 RAM has a default clock speed of DDR2-1173 MHz while maintaining memory timings of 5-5-5-15. The memory operates at a modest voltage of 2.2V. The PNY D22GX93XLP-5 supports nVIDIA's EPP technology, if you're a novice at overclocking enable that feature in the BIOS and let the motherboard handle everything else.
The heatsink that PNY chooses to install onto the D22GX93XLP-5 looks a lot like the aluminum heat spreaders that Corsair uses on its DOMINATOR series.
There's been a lot of noise about aftermarket memory cooling from heatsink manufacturers, but take it from PCSTATS, you'll want to pass on pretty much every option. The problem is, modern DDR2 memory has the heat spreader bonded onto the BGA DRAM modules. Attempting to remove this will likely damage your RAM. We toasted a $350 stick of Crucial Ballistix memory back in 2004 and that heat spreader was only attached with double sided tape.
These days with the way memory manufacturers are securing the heat spreaders, I wouldn't be surprised if the BGA DRAM modules pop right off the PCB. Remember kids, physical damage voids warranty so forget about replacing the stock heat spreaders with something fancier from Thermalright or Thermaltake.
PCSTATS Test Methodology
On Intel Socket 775 Core 2 Duo test systems, we're only interested in seeing how high we can go with the DDR-2 memory running 1:1, as running with other dividers puts the overclocking bottleneck elsewhere and not with the system memory. The DDR-2 RAM latency must run at its lowest possible setting, as quick access is more important to the CPU design. Just for arguments sake, we will also be conducting overclocking tests to see how high the memory will go with lax timings (5-5-5-15), although we will only benchmark the system with the tight memory timings mentioned above. Let's get started and overclock these blue babies!