Overclocking Results:
The GeForce 8600GTS turned out to be a pretty good overclocker so we had some high hopes with the Albatron 8600GT-256. Starting with the core first, which is clocked at 540 MHz, we had hopes of pushing it to GeForce 8600GTS levels (675 MHz).
Increasing the core clock speed at 5 MHz increments, the Albatron 8600GT-256 videocard was a treat to tweak. The little green videocard easily hit the 600 MHz mark without even flinching. The GPU still had plenty to go, that's for sure.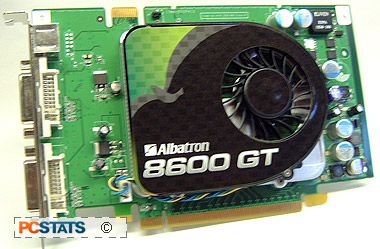 The GeForce 8600GT core made it past 675 MHz easily enough, that's the stock speed of the GeForce 8600GTS. The G84 core reached a maximum speed of 712 MHz, anything higher and the system would start to lock up the system while running benchmarks.
Next up was the 256MB of GDDR3 memory on this Albatron videocard. Even if it were good at overclocking, we had a feeling it wouldn't get up to GeForce 8600GTS levels. Starting at 1400 MHz, the memory clock speed was increased in 20 MHz jumps. Speeds of 1500MHz and 1600 MHz came and went quite easily. I really expected the Albatron 8600GT's 256's worth of memory to hit 8600GTS memory clock speeds.
Unfortunately the memory on the Albatron 8600GT-256 didn't quite have enough umph to get to 2 GHz... Still, it did hit a nice top speed of 1760 MHz. When you consider the stock speed of the memory is normally 1760 MHz, that's pretty darn good!
Prelude to Benchmarks
The details of how the Albatron 8600GT-256 test system was configured for benchmarking; the specific hardware, software drivers, operating system and benchmark versions are indicated below. In the second column are the general specs for the reference platforms this nVIDIA GeForce 8600GT 256MB based videocard is to be compared against. Please take a moment to look over PCSTATS test system configurations before moving on to the individual benchmark results on the next page.

PCSTATS Test System Configurations