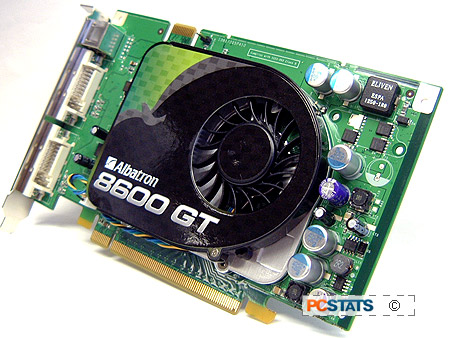 The nVIDIA GeForce 8600GT GPU offers us a good Microsoft Vista DirectX10 compatible platform from which to build on. The Albatron Geforce 8600GT-256 videocard is a very aggressive priced, so there isn't much to dissuade users seeking out an inexpensive graphical upgrade.
Retailing for $155 CDN ($147 USD, £73 GBP), the Albatron 8600GT-256 will bring your system up to Microsoft Windows Vista levels and offer up a moderate level of videocard game play. Albatron only bundle in a DVI to analog converter and TV/Component output cable here... a game would have been a nice touch.
While nVIDIA GeForce 8600GTS videocards require extra power, the Albatron 8600GT-256 can get by with just what it receives through the PCI Express x16 slot. That makes getting the Albatron 8600GT-256 up and running a simpler task for users with older computers.
In the 3D tests we see that the Albatron 8600GT-256 performs rather well for its GPU class, and that for the most part it can play modern games at 1024x768 without difficulty. Turning up the resolution or completely maxing out the image quality settings is not a great idea. Nvidia's GeForce 8600GT GPU simply doesn't have enough memory bandwidth to handle that kind of load.
The Albatron 8600GT-256 videocard was decent at overclocking, and in PCSTATS tests the core rose to 712MHz and memory approached 1760MHz. You'll see the biggest boost from this Albatron videocard by overclocking the memory speed as the G84 core is memory bandwidth bottle necked as it is.
If you need a DirectX10 Vista compatible videocard that doesn't cost an arm and a leg, the Albatron 8600GT-256 is great option. All the DX10 goodness you'd expect from a next generation videocard in a small and inexpensive package.
Find out about this and many other reviews by joining the Weekly PCstats.com Newsletter today! Catch all of PCSTATS latest reviews right here.
Related Articles
Here are a few other articles that you might enjoy as well...
- Asus EN8800GTS/HTDP/320M Geforce 8800GTS Videocard Review
- nVidia GeForce 8800GTS 320MB SLI Videocard Head On Comparison
- Foxconn 8600GTS-256 Geforce 8600GTS DirectX10 Videocard Review
- MSI NX8600GTS-T2D256E-OC GeForce 8600GTS Videocard Review
- MSI NX8800GTS-T2D320E-HD-OC 320MB Geforce 8800GTS Videocard Review
- MSI NX7900GS-T2D512E-OC Geforce 7900GS Videocard Review
- PowerColor Radeon X1550 512MB Videocard Review
- Foxconn FV-N88SMCD2-ONOC GeForce 8800GTS 320MB Videocard Review
- MSI NX8800GTX-T2D768E-HD Geforce 8800GTX PCI Express Videocard Review