More power equals better performance, or does it.... We compare two of Asus's spiffy video cards with the GeForce processor head to head. Will the 64MB V6600 Pro beat out the 32MB V6800? Who knows...


86% Rating:

Home > Reviews > Video Cards > ASUS V6600 Pro
An interesting little package arrived in my hands recently. It came in the form of a 64MB Geforce! It was the Asus V6600 Pro 64MB. This is basically your standard GeForce with SDRAM, and an AGP pro connector. The only performance-enhancing feature that this card has over its 32MB predecessor is quite obviously the added RAM. The AGP pro connector looks kind of cool, but it really does nothing for performance. It's basically a new feature that allows the asus video card to draw more current - assuming the motherboard supports it.
https://www.intel.com/pressroom/archive/releases/wp30698a.htm
| | |
| --- | --- |
| | The Asus V6600 Pro 64MB also works with a standard AGP port, so were able to do some benchmarking on the Abit VT6X4 as well as the AGP pro equipped Asus K7V. Let's see if the extra memory helps the V6600 Pro 64MB SDRAM ($325 CDN / $219 USD) versus the V6800 DDR 32MB ($355 CDN / $239 USD) that only has 32MB ram. |
First here are the basics of the two test systems we used:
Installation of the Asus GeForce Cards:
Installing the V6600 Pro, and the V6800 was quick easy, I simply downloaded the 5.16 detonators, and then I unzipped them to C:\windows\temp. I then slapped the card into the AGP slot. Upon rebooting, Windows detected new hardware, and I pointed the new hardware wizard to the C:\windows\temp directory, where I had put the newly unzipped drivers. Badda-bing, badda-boom, everything was installed!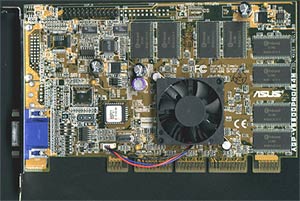 Note the extra connector on the far right of the V6600 - that is the "Pro" bit which draws the extra juice.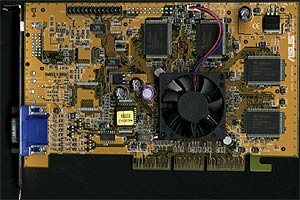 Note on the V6800 the absence of the extra power taps.