Overclocking Results:
The nVIDIA GeForce 8 series of videocards have been pretty good overclockers in PCSTATS labs, so I was expecting good things from the MSI NX8500GT-TD256E as well. The core is clocked at 450 MHz by default and the memory hums along at 800 MHz, far too low... let's see what we can do about that! ;-)
Starting with the Geforce 8500GT core first, the clock speed was bumped up in 10 MHz increments. The little GeForce 8500GT core handled this well, easily cracking 500 MHz in no time from a starting point of 450MHz. Then just as quickly came 560MHz, 570MHz and 580MHz. After a while it was starting to look like the MSI NX8500GT-TD256E would overclock forever...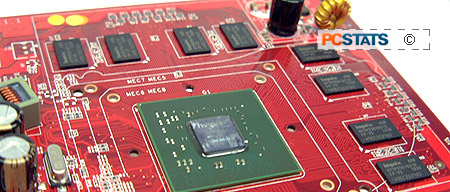 Even 600 MHz came and went without any difficulty, but eventually maximum speed the GeForce 8500GT GPU would run at was 676 MHz! That's a very healthy 226 MHz overclock! I'm quite impressed by this entry level videocard.
Next up was the 256MB of Hynix HY5P8561621A memory, this time the clock speed was increased in 20 MHz increments. The 256MB of GDDR2 memory broke past 900MHz and 1000 MHz pretty easily, before topping out at 1040 MHz. Anything higher and nTune would complain about the videocard not passing its internal test.
Considering the stock core and memory speeds, the MSI NX8500GT-TD256E videocard turned out to be a pretty sweet overclocker. Up next, check out what the higher clock speed does to benchmark results.
Prelude to Benchmarks
The details of how the MSI NX8500GT-TD256E test system was configured for benchmarking; the specific hardware, software drivers, operating system and benchmark versions are indicated below. In the second column are the general specs for the reference platforms this nVIDIA GeForce 8500GT 256MB based videocard is to be compared against. Please take a moment to look over PCSTATS test system configurations before moving on to the individual benchmark results on the next page.

PCSTATS Test System Configurations