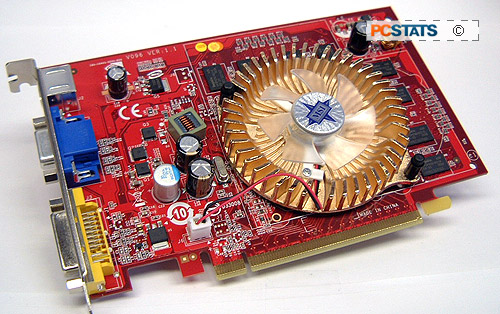 If you're planning on upgrading to Microsoft Windows Vista take a bit more time when searching for a videocard and get something that's based around DirectX 10.
While it is true all you need is DirectX 9.0C to technically run Vista's AeroGlass feature, a DirectX 10 videocard will give you the ability to try out the latest games.
The PCI Express x16 MSI NX8500GT-TD256E videocard is a prime example of value in an entry level part, and with a retail price of $93 CDN ($86 USD, £43 GBP) you're getting one heck of a value videocard.
The MSI NX8500GT-TD256E uses nVIDIA's GeForce 8500GT GPU and comes with 256MB of GDDR2 memory. Other goodies the videocard supports are dual monitors, TV/Component output and HDCP so you can watch those encrypted HD-DVD and Blu-Ray movies. You don't get any software with the videocard.
I have to say it was a pleasant surprise to see just how well the MSI NX8500GT-TD256E performed in the benchmarks. The little videocard is not going to set any speed records, but considering its price the NX8500GT-TD256E performed fairly well for its GPU class. It can handle most games at a reasonable framerate, with a resolution of 1024x768. Turning on AA or AF or increasing the resolution though will be too much for this particular videocard.
The MSI NX8500GT-TD256E was pretty good at overclocking. The G86 core went from a stock speed of 450 MHz to 676 MHz and the GDDR2 memory went from 800 MHz to 1040 MHz. Overclocking boosted overall framerates slightly, so if you find gaming too slow overclocking may help ease the burden.
Considering the intended market and user, the MSI NX8500GT-TD256E videocard truly delivers a good performance. It has a bit of everything packaged into a small and inexpensive videocard, and in terms of value you can't beat that.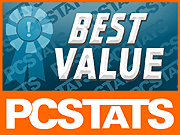 Find out about this and many other reviews by joining the Weekly PCstats.com Newsletter today! Catch all of PCSTATS latest reviews right here.
Related Articles
Here are a few other articles that you might enjoy as well...
- Albatron GeForce 8600GT-256 PCI Express Videocard Review
- Asus EN8800GTS/HTDP/320M Geforce 8800GTS Videocard Review
- nVidia GeForce 8800GTS 320MB SLI Videocard Head On Comparison
- Foxconn 8600GTS-256 Geforce 8600GTS DirectX10 Videocard Review
- MSI NX8600GTS-T2D256E-OC GeForce 8600GTS Videocard Review