Overclocking is alive and well! PCSTATS has all the details you need to see at a glance to know which board is best. The chart we've compiled below lists the highest overclocked Front Side Bus speeds we were able to achieve while maintaining 100% stability.
To say the MSI P35 Platinum motherboard overclocks well is an understatement, it's the fastest Socket 775 motherboard that PCSTATS has tested to date! It's the first board to break the 500 MHz FSB mark with a Core 2 Duo processor, and that is fantastic if you ask me. The Intel P35 Express overclocks like a monster, it's certainly an exciting time to be an enthusiast! Just remember to disable Intel EIST in the BIOS before trying to reach for the stars. ;-)
MSI's first P35 Board - Fast or Just Fast Enough?
Expect a glut of Intel P35 Express based motherboards in the coming months as Intel's new mainstream chipset brings its core logic performance levels up to those of nVIDIA. The Intel P35 Express chipset supports the 45nm Core 2 Quad CPU, and some boards it ships on will even be equipped with DDR3 memory slots! Talk about a chipset that is future ready.
The MSI Computer P35 Platinum is one of the new generation Intel P35 Express motherboards to hit the retail market, and from what we've seen it's a great solution. As indicated, the P35 Platinum does support Intel's upcoming 45nm CPUs, as well as 1333 MHz Front Side Bus (FSB). The motherboard PCSTATS tested for you today is DDR2 only. Motherboard makers are only releasing one or two models with DDR3 capability as DDR3 RAM is not expected to really take off until mid 2008.
Standard equipment on the MSI P35 Platinum includes a Gigabit network card, 7.1 channel High Definition Azalia audio, five internal Serial ATA II ports, two IEEE 1394a channels, 12 USB 2.0 ports and not to be forgotten... AMD CrossFire support. The P35 Platinum is equipped with a custom passive chipset and power circuitry cooling system called Circu-Pipe. This heatsink silently cools the Northbridge, Southbridge and MOSFETs with the exhaust air from the CPU heatsink.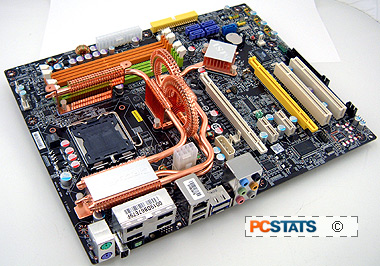 MSI also goes the next step by including Microsoft Windows Vista drivers with the motherboard, not just WindowsXP. Nice touch.
On paper the Intel P35 Express chipset is superior to the Intel P965 Express, and in testing it is a bit faster. The performance differences between the platforms should become more evident as the CPU industry progresses towards more parallelism. With a dual core processor the boost was realistically minimal, as you saw, but the extra bandwidth available with the P35 Express chipset will be appreciated when a quad core processor is installed.
With that said the MSI P35 Platinum motherboard was pretty darn quick in the benchmarks. Results from SYSMark2004, SiSoft Sandra and PCMark05 indicate a platform that's slightly faster, but it's in games that the motherboard really shines. From FarCry to Doom 3 and Quake 4 the MSI P35 Platinum is continually fighting for top spot, sometimes by a good 10 fps. A lot considering the only difference is the motherboard and chipset!
As you can see in the overclocking tests the MSI P35 Platinum is the fastest Intel motherboard that we've ever tested reaching 504 MHz FSB! It's also a testament to the Intel P35 Express chipset, it's head and shoulders above everything else in terms of reaching high speeds. The two Intel P35 Express motherboards that have passed through the PCSTATS test labs rank 1 and 2 in terms of overclocking.
With a retail price of $214 CDN ($199 USD, £100 GBP), the MSI P35 Platinum is a moderately priced motherboard that supports a lot of goodies and is fast. If you're planning on upgrading or building a new system the MSI P35 Platinum should garner some consideration, it is a solid motherboard with a chipset that will support CPUs for the foreseeable future.
Find out about this and many other reviews by joining the Weekly PCstats.com Newsletter today! Catch all of PCSTATS latest reviews right here.
Related Articles
Here are a few other articles that you might enjoy as well...
- ECS AMD690GM-M2 AMD 690G Motherboard Review
- TechBrief: Gigabyte Adopts Solid Polymer Capacitors For Motherboards
- MSI K9AGM2-FIH AMD 690G Motherboard Review
- Biostar TF7050-M2 GeForce 7050PV Motherboard Review
- Biostar TA690G AM2 AMD 690G Motherboard Review