Overclocking Results:
PCSTATS had quite a bit of success overclocking Gigabyte's P35 Express based GA-P35-DQ6 motherboard, so we're anticipating big things from the MSI P35 Platinum motherboard too.
The MSI P35 Platinum will be tested with an Intel Core 2 Duo E6600 processor and a 2GB set of Corsair DOMINATOR Twin2X2048-8888C4DF memory - neither processor nor memory should hold this board back!
Starting at 266 MHz FSB the clock speed of the MSI P35 Platinum was increased in 5 MHz increments. The motherboard had absolutely no problems reaching 300MHz or 333 MHz for that matter (the default speed of Intel P35 Express chipset). At 340 MHz the Core 2 Duo CPU did start to give us some issues, so the CPU clock multiplier was lowered from 9x to 6x. That allowed the P35 Platinum to overclock further.
At 400 MHz FSB the Northbridge voltage required a small bump up to 1.35V, from 1.25V. After that it was smooth sailing, the MSI P35 Platinum motherboard flew past 420 MHz, 430 MHz and 440 MHz quite easily. To reach 450 MHz, the Intel P35 Express Northbridge required a bit more juice, this time we raised it to 1.4V.
The P35 Platinum surpassed 482 MHz FSB that the previous overclocking champ achieved, the Gigabyte GA-P35-DQ6 (also an Intel P35 Express motherboard). Our overclocking continued for a little bit longer, and the MSI P35 Platinum eventually settled at a maximum speed of 504 MHz. Anything higher caused the system to not POST properly, and the BIOS would complain about a failed overclock.
In terms of overclocking the MSI P35 Platinum motherboard is in very select company, thus far it is the best enthusiast class motherboard PCSTATS has tested! Our previous attempt at overclocking was with Intel's EIST enabled, this unfortunately took away the motherboard's ability to change the CPU clock multiplier, a very necessary adjustment to achieve really high overclocks. In that previous test, we were only able to reach 408 MHz FSB. To get the full overclocking potential from this motherboard you must disable Intel EIST first.
Advanced Chipset Cooling System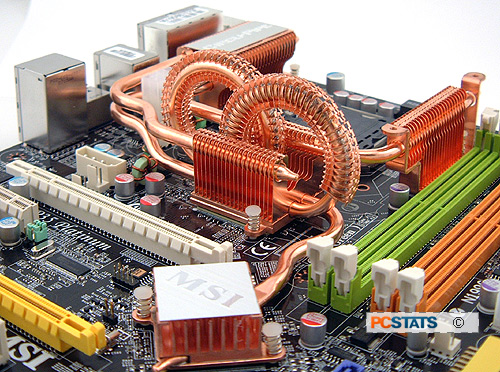 MSI's elaborate cooling solution is called Circu-Pipe. It is essentially a series of thin copper fin heatsinks connected together by long heatpipes. The Intel P35 Express Northbridge, ICH9R Southbridge and MOSFETs are all cooled by this system. The ICH9 Southbridge uses a small heatsink with a metal MSI sticker firmly placed over it. Other heatpipes race off towards the MOSFETs around the LGA775 CPU socket where exhaust airflow from the CPU heatsink is harnessed.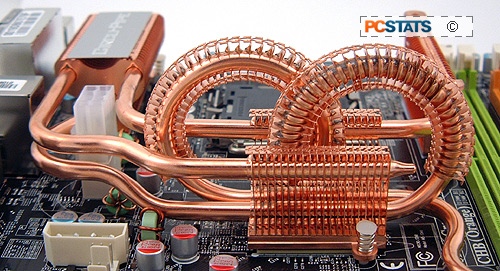 As you can see the copper Circu-Pipe heatsink has two heatpipe loops right at the Intel P35 Express Northbridge. This is mainly done for style but also places the heatsink higher up off the PCB directly into airflow lanes. With this type of heatsink though it's important that there is air always moving through the fins. The P35 Express chipset is built on Intel's 65nm manufacturing process and contains ~45 million transistors. In terms of heat output the P35 is on the same level as the previous Intel P965 Express chipset.

The heatsink to the right of the CPU socket looks like it is compatible with a fan. There is obviously a screw attachment here, but no fan was included with the motherboard. Rigging a fan to cool the heatsink shouldn't be a problem.