Microsoft Windows Vista runs best with about 2GB of memory installed, or put another way; 1GB is the bare minimum and the sweet spot is 4GB. If you're a forward thinking computer user, you might want to spring for a 4GB kit of memory right now. Why? well, starting off with two 2GB sticks of memory leaves two memory slots available on most motherboards for future memory additions... and with DirectX10 games popping up all over the place that's good insurance.
Of course, the biggest limitation when it comes to running a PC with 4GB of RAM is memory incompatibility. Cobble together two different pairs of 2GB DDR2 memory sticks and chances are the motherboard will mistakenly report only 2.7GB, 3.3GB or 3.7GB of RAM installed... Worse yet, mixing and matching different 2GB memory sets may force you to use lax memory timings, or even to turn down the memory speed. Bummer.
It's a good thing that Mushkin has produced this high performance 4GB memory kit... yes, that's FOUR GIGABYTES! Mushkin quietly released this 4GB kit (2x 2GB memory modules) of PC2-6400 DDR-2 RAM in the first quarter, and PCSTATS is excited to finally be testing the modules for you. The 4GB Mushkin XP2-6400 memory kit has a default speed of DDR2-800, or PC2-6400, all the while maintaining tight CAS latency timings of 4-3-3-10! For 2GB modules, that's impressive.
High capacity DDR2 with tight timings is a very rare thing, and it's consequently the kind of memory that commands a significant price. Mushkin's XP2-6400 4GB memory kit retails for about $635 CDN ($533 USD, £282 GBP), but when it comes to dual channel 4GB memory kits for performance desktop applications, there really aren't more than a handful of choices. When you look at some of the other 2GB DDR2 memory that PCSTATS has tested recently, the price isn't too bad. In fact, it starts to look like a bargain.

Mushkin XP2-6400 Memory
RAM Memory Type: DDR2-800 / PC2-6400
Individual Module Capacity: 2048MB
Native Speed & Latency: 800 MHz @ CAS 4-3-3-10
Enhanced Performance Profiles (EPP): No
Mushkin's XP series of memory is designed for PC enthusiasts and overclockers. The 'XP' stands for eXtreme Performance. In this case, each individual memory stick is 2GB in size and comes running at DDR2-800 speeds with timings of 4-3-3-10. To get the memory to operate properly Mushkin recommends that you set the BIOS to give the DDR2 between 2.2-2.5V. That is a higher than average voltage, although we should mention that the memory PCSTATS tested had no difficulties running with just 1.8V (DDR2 stock voltage).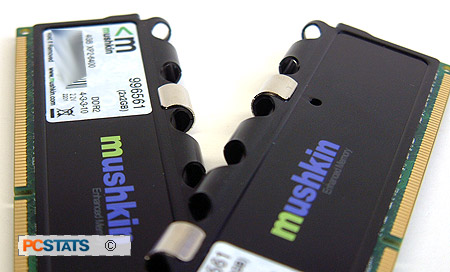 To protect the memory modules from physical damage and keep the DDR2 BGA DRAM modules operating within the ideal temperature levels, a pair of custom aluminum heatspreaders are used. These black puppies are called the "FrostByte" heatsink system. The ramsinks are slightly taller than a typical equivalent, and do seem to work well.
The heatspreaders have 58% more surface area, and open at the top to improved airflow in and around the memory module. Mushkin employ an "advanced thermal adhesive" which apparently has double the thermal conductivity of the previous material. Sounds good to us.
Removing the heatspreaders can easily damage memory modules. Most manufacturers bond the heatspreader onto the DRAM modules. The solder ball contacts on the bottom of the DRAM are fragile and can be easily damaged if you try to remove a heatspreader. So don't try an remove factory installed heatspreaders.
Operating System Note: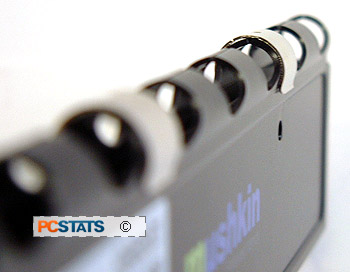 Even though the motherboard PCSTATS tested these 4GB babies with fully recognized the 4GB Mushkin XP2-6400 memory, WindowsXP didn't quite get it.
According to WindowsXP, the system was installed with 3.25GB of memory. This is a limitation of a 32 bit OS, the "missing 750MB" of memory is reserved for hardware devices. It's possible for the operating system to bypass the 32 bit memory limit of 4GB to recognize more memory, but that is due to Physical Address Extensions (PAE), which until recently was primarily a workstation/server option.
Intel has detailed this issue here and another option is to run a 64 bit operating system like Microsoft WindowsXP 64 bit Edition or the 64 bit versions Windows Vista.
PCSTATS Test Methodology:
On Intel Socket 775 Core 2 Duo test systems, we're only interested in seeing how high we can go with the DDR-2 memory running 1:1, as running with other dividers puts the overclocking bottleneck elsewhere and not with the system memory. The DDR-2 RAM latency must run at its lowest possible setting, as quick access is more important to the CPU design. Just for arguments sake, we will also be conducting overclocking tests to see how high the memory will go with lax timings (5-5-5-15), although we will only benchmark the system with the tight memory timings mentioned above. Let's get started and overclock this 4GB wonder!!