Overclocking Results:
The nVIDIA GeForce 8 series videocards that have passed through the PCSTATS test labs have overclocked well. By default the MSI NX8600GT-T2D256E-OC videocard is clocked at a 580 MHz core and 1600 MHz memory.
Starting with the core first the clock speed was increased in 10 MHz increments. The GeForce 8600GT turned out to be a pretty good overclocker and easily passed 600 MHz without any issues. The core turned out to be a great overclocker as it passed 675 MHz which is the stock speed of the GeForce 8600GTS core.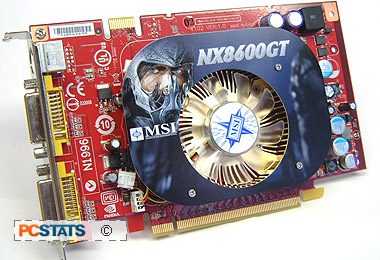 The MSI NX8600GT-T2D256E-OC core reached a maximum speed of 708 MHz, anything higher and nTune would complain about the videocard failing its driver test. A speed of 708 MHz is a very healthy overclock from 540 MHz, so it's nice to see that the GeForce 8600 class can overclock well.
The 256MB of GDDR3 memory on the MSI videocard was next.
Starting at 1400 MHz the memory frequency was increased in 20 MHz jumps, hey we're impatient. ;-) The memory handled overclocking and cracked 1600 and 1700 MHz without breaking a sweat.
The memory on the MSI NX8600GT-T2D256E-OC reached a maximum speed of 1730 MHz. Not quite GeForce 8600GTS memory levels... but then again we didn't expect that. Overall the NX8600GT-T2D256E-OC performed nicely and if you need more performance out of the videocard, overclocking is definitely something you should consider.
Prelude to Benchmarks
The details of how the MSI NX8600GT-T2D256E-OC test system was configured for benchmarking; the specific hardware, software drivers, operating system and benchmark versions are indicated below. In the second column are the general specs for the reference platforms this nVIDIA GeForce 8600GT 256MB based videocard is to be compared against. Please take a moment to look over PCSTATS test system configurations before moving on to the individual benchmark results on the next page.

PCSTATS Test System Configurations