The GeForce 8600 series is exactly what the doctor ordered for anyone on a strict budget. Usually mainstream videocard prices stay fairly consistent, yet with the GeForce 8600 series nVIDIA has dropped things a little lower than typical. The GeForce 8600GTS can be had for as little as $185 CDN, while the GeForce 8600GT is roughly $130 CDN. Either way you look at it, both videocards are a steal. The nVIDIA GeForce 8600GT in particular, is a good DX10 option because it's within the budget of any entry level PC builder or upgrader. When you consider that it includes full HDCP support for high definition content, you can see why ATi is having such a difficult time keeping up with nVIDIA.
Reading through the spec sheet for the nVIDIA GeForce 8600GT GPU, you might be mistaken for thinking it's a high performance graphics processor. The Geforce 8600GT has a high speed core which runs at 500+ MHz, is packaged with 256MB of GDDR3, has Dual-Link DVI and with Component/TV output. What more do you need?
With its NX8600GT-T2D256E-OC, MSI gives consumers an even more attractive package by selling a pre-overclocked GeForce 8600GT videocard straight from the factory. Stock speeds for this GPU are 540 MHz core, 1400 MHz memory. The MSI NX8600GT-T2D256E-OC runs with its GPU at 580 MHz and memory at 1600 MHz! That should give us a little bit of extra "umph" at higher resolutions.
As you might have guessed by now, the MSI NX8600GT-T2D256E-OC videocard has 256MB of GDDR3 memory, and is built around the GeForce 8600GT GPU. All nVIDIA GeForce 8 series videocards will run SLI, but to do this you will need to install a second PCI Express x16 GeForce 8600GT card and connect the two together with an SLI bridge connector on an SLI compatible motherboard.
The NX8600GT-T2D256E-OC videocard retails for $144 CDN ($135 USD, £67 GBP); a good rate though not the least expensive model in this class. MSI's NX8600GT videocard sports twin dual DVI outputs, but also ships with two DVI-to-analog converters if you're running a CRT or analog display. There are no bundled games, but there is a TV output cable which includes S-Video and Component output for high definition displays.

MSI NX8600GT-T2D256E-OC Videocard




Includes:

User's Manual, Driver CD, TV/Component Output Cable, S-Video Cable, 2x DVI to analog converter
MSI uses a custom GPU heatsink on the NX8600GT-T2D256E-OC and it works quite well. During testing even at full load the heatsink was near silent. Temperatures according to nVIDIA's nTune utility were in line with what we expected (in the low 50s) which is comfortable for the GPU. Once this videocard is installed into the PC, you're not going to notice the noise the videocard makes, that's for sure.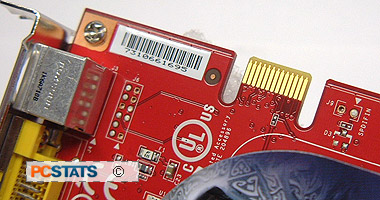 The GDDR3 memory modules make contact with the GPU heatsink although cooling the DRAM modules isn't really even vital.
DOT EXPRESS - MSI's Overclocking Utility
Bundled along with the MSI NX8600GT-T2D256E-OC videocard is its DOT EXPRESS feature. If you already run an MSI motherboard, you'll be familiar with this already; it's MSI's dynamic overclocking tool. With videocards, the utility is software based. To enable DOT EXPRESS, you must install MSI's version of the Forceware display drivers (which can be found here). Using the standard nVIDIA drivers will disable DOT EXPRESS from functioning.
When enabled, MSI's DOT EXPRESS can automatically overclock your videocard via six pre determined settings. According to MSI this will scale the videocard between 2-10% but if that's not your cup of tea, you can let DOT EXPRESS overclock higher with its Auto-Overclocking-Wise feature. This will continue pushing the videocard to its limits, keeping in mind safety for the hardware and while maintaining safe temperatures.
MSI guarantees that the videocard will be stable at whatever speed DOT EXPRESS determines to be safe. Of course if you're an experienced enthusiast and like to get your hands dirty, you can always disable DOT EXPRESS and overclock manually. No matter how you push the MSI NX8600GT-T2D256E-OC videocard, keep in mind that it ships pre overclocked from the factory. The memory is thus already running at 1600 MHz, substantially higher than nVIDIA stock value 1400 MHz. The GPU will probably be easier to overclock as it's only running 580 MHz, just 40 MHz faster than a stock GeForce 8600GT.
MSI's DOT EXPRESS dynamic overclocking feature is designed for MSI nVIDIA based videocards only and will not work with other brands. Pity since it works quite well and is a very user friendly tool.
The technology behind the Geforce 8600GT family is pretty well known, so PCSTATS will give you a brief run down on that front before diving into the overclocking tests and benchmarks next.