Overclocking has long become a mainstream hobby, and we love it! There's nothing sweeter to a techie heart than a motherboard with high FSB and voltage aspirations, and memory that openly flaunts its ability to run at high speeds. From heatsinks to fans, liquid and beyond, thermal solutions for CPUs, videocards, even motherboard chipsets and RAM are the icing on the cake!
And yet videocards are the one area where overclocking has always been rather tame. Most makers stick with dull reference heatsinks for their VGAs, or add on a very elaborate low noise system which isn't very well suited to overclocking (though low noise is much appreciated). To make matters worse, the overclocking software bundled in with videocards is often a UI nightmare, never installed, or never really that useful.
That was the case until Biostar unveiled its Sigma-Gate GeForce videocards. PCSTATS got a taste of things to come when we reviewed the Biostar Sigma-Gate GeForce 7600GS - you remember, that was the first videocard to have voltage options... and we liked it! The videocard itself was plain jane, but it's Sigma-Gate overclocking software was very unique. Arguably the most versatile videocard overclocking utility from a vendor, Biostar's Sigma-Gate and V-Ranger software allowed us to push that videocard to its max. Literally. The key to our overclocking Zen was adjustable GPU and memory voltage options. Sadly, Biostar's V-Ranger software only works with its Sigma-Gate videocards.
In any case, what made Biostar stand out was that it gave end users the ability to change both core and memory voltages, pretty large voltage options by the looks of it too. About the only thing going against the PCI Express x16 Sigma-Gate GeForce 7600GS videocard was that it was released too late into the market. By the time that Geforce 7600GT hit the PCSTATS labs, Microsoft Windows Vista and DirectX 10 were upon us. Suddenly DirectX 9.0C just wasn't that attractive.
Well PCSTATS is very excited that Biostar is back at it with the Sigma-Gate VR8603TS21 GeForce 8600 GTS videocard!

Biostar Sigma-Gate GeForce 8600GTS




Includes:

User's Manual, Driver CD, DVI to analog converter, S-Video/Component output cable
With a retail price of $180 CDN ($173 USD, £85 GBP) Biostar ought to have a real winner here. The Biostar VR8603TS21 videocard has 256MB of GDDR3 memory onboard, and is obviously based on the popular nVidia Geforce 8600GTS GPU.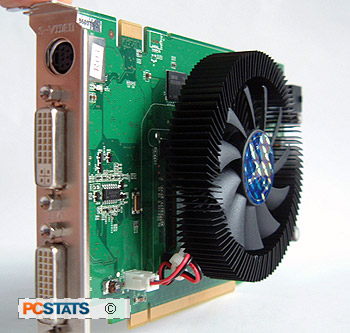 The PCI Express x16 card doesn't come with much, just the standard fare of a DVI to analog converter, dual molex to six pin PCI Express power connector and a TV/Component output connector. What it does come with is V-Ranger software which will allow you to tweak both the memory and GPU voltage settings!
The Biostar Sigma-Gate GeForce 8600GTS videocard is based on nVidia's reference design. Biostar equip the card with custom dual slot cooling solution, leaving the 256MB of GDDR3 memory naked. The latter is not much of an issue, even when highly overclocked the memory is only luke warm.
The heatsink that Biostar uses with the Sigma-Gate GeForce 8600GTS reminds one of the old Thermaltake's Orb coolers. It did a decent job at keeping the nVIDIA GeForce 8600GTS cool, maximum core temperature hovered between 50-55 degrees Celsius.
The 70mm fan runs at full speed whether you're in 2D or 3D mode, but it is quiet and when installed into a case not very noticeable. The heatsink will snatch up the adjacent expansion slot so make sure you give the Biostar Sigma-Gate GeForce 8600GTS room to breath.
There is the card edge connector for an SLI bridge connector on the top left hand corner of the Biostar Sigma-Gate GeForce 8600GTS. You can run this card with another nVIDIA GeForce 8600GTS for more 3D performance. It' is not necessary to have another Biostar card to run SLI, but remember the Sigma-Gate GeForce 8600GTS will probably overclock better than the other card so don't be as aggressive when overclocking.