We'll start off by assuming that this system is going to be used primarily for work and web applications, so something that comes with a lot of integrated features is at the top of our list. To help keep costs down, a motherboard with integrated video is the way to go, but it should still have a PCI Express videocard slot so you can upgrade later if need be.
The AMD 690G and nVidia Geforce 7050 chipsets both offer quite a lot for a socket AM2 AMD Sempron processor to get excited about; DirectX9.0c to support Windows Vista, and some boards even come with HDTV supporting HDMI outputs! Motherboards based on these new chipsets are quite affordable, and if you're planning on installing Windows Vista really are the way to go.
Instead of taking the easy route and suggestion you go buy Microsoft Vista Home Basic, we're going to assume you have an old, and not very useful PC running a perfectly good copy of Windows XP still hanging around. By cutting the cost of purchasing a new operating system you save cash, and there is nothing wrong with moving a retail version of Windows XP from an old computer to a new one. It is against the Microsoft EULA to run the same installation of Windows XP on two different computers concurrently, but it is permissible to retire the old PC, upgrade its relevant parts and reinstall it with the same installation of Windows XP once again.
The only potential problem you may face is if the old PC was running an OEM version of WindowsXP; a Dell, HP, Compaq, or Gateway-fiedXP. Pre-installed operating systems tied to one vendor can only be run on the computer it was sold with.
Selecting a Geforce 6150 based Integrated Motherboard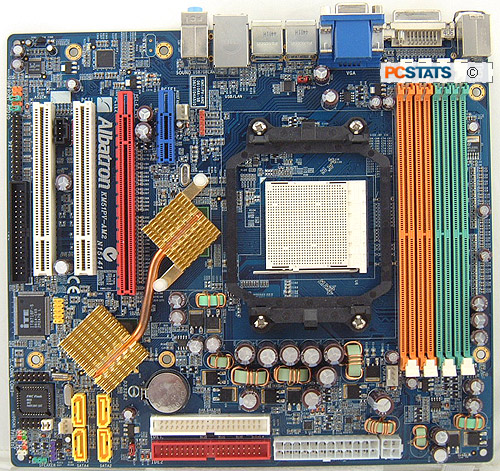 PCSTATS selected a socket AM2 motherboard for this article from Albatron that is built on nVIDIA's GeForce 6150 chipset.
While the nVidia Geforce 6150 is not as new as the AMD 690G or nVidia Geforce 7050 chipsets, it will run Windows XP just fine.
Furthermore, motherboards with this chipset are widely available and don't cost much. The Geforce 6150 definitely holds a lot of promise and it's still a very strong integrated contender.
The nVidia GeForce 6150 chipset is the brother chipset to the vanilla GeForce 6100, but the former core logic is the better choice for a couple of reasons. First it's slightly faster so it should handle occasional gaming a little quicker, more importantly the GeForce 6150 supports more advanced TV Output options (HDTV vs Standard Definition on the 6100). Considering the price difference between the two platforms, it only makes sense to shoot for the GeForce 6150.
The Albatron KM51PV-AM2 motherboard is one of the hottest value motherboards on the market and it's also smoking fast when it comes to performance. It has an integrated 5.1 channel audio controller, Gigabit network jack, four Serial ATA II channels and a (dual monitor capable) onboard videocard with the option to install a full PCI Express videocard.
What more could you ask for?
Depending on your budget, a GeForce 6100-series motherboard like the Epox EP-AF550G Pro or BioStar TForce 6100 AM2 can also be a good option. Other nVidia Geforce 6150 boards worth considering include the Foxconn 6150K8MA-8EKRS, Gigabyte GV-K8N51PVMT-9 and Asus A8N-VM CSM, although the feature lists may differ slightly from the Albatron KM51PV-AM2.
Choosing the Rest of the Hardware
The processor and motherboard are the most difficult parts to choose, but with that done everything else falls into place quickly. The next piece of the puzzle is memory, and here you can pick RAM modules that are simply less expensive.
With memory, it's important to buy name brand modules with support and warranties, this way you have a safety net if there are problems. With generic memory you're stuck with a paperweight if it stops working.... Now it really doesn't matter which memory manufacturer you choose, as most offer good service. There are three companies that come to mind if you need a place to begin; Crucial, Kingston and Corsair. Each has a stellar reputation, and a good solid value memory lineup.
As the AMD Sempron processor PCSTATS has selected is a single core chip, a set of 1GB Crucial PC2-4200 memory modules will be sufficient. When running in dual channel mode, the memory has more than enough memory bandwidth to keep a single processing core happy. Microsoft Windows XP also runs well with 1GB of memory installed, and as RAM prices are constantly falling 2GB of memory might even be within your budget by the time you read this. That much RAM is certainly nice, but it's not a must have.
The rest of the computer system components are not as important, with one exception. Don't cheap out on the power supply. Seriously. Now that doesn't mean you need 700W of flaming chrome blue glory, just that you should buy a name brand power supply from the likes of Antec, Seasonic, Enermax, Thermaltake, etc. A power supply in the range of 400W-450W ought to be sufficient. The Seasonic Super Tornado 400W is a nice and quiet unit, but PCSTATS has tested many others here if you need some other options.
In terms of data storage there are plenty of 200-300GB Serial ATA hard drives to pick from. If hard drive prices are putting you over budget limit, look for a 120GB drive or even re-use an old IDE drive. A DVD-ROM should be the minimum installed in any computer, but with dual layer DVD burner prices these days hitting $40 or less, going with a writer is the smart move.
Last but not least is the computer case. If you already have a tower that will accommodate the new PC hardware then you need not buy anything. That said, staring at the same beige box you've been looking at for the last four years with stickers from Chumbawumba plastered on the site can get kind of dull. Every kind and colour of computer case is available, but don't go overboard here. If you have extra money, its better spent on a faster CPU, more memory or a larger hard drive.
Pretty cases do nothing for performance. Now, let's put all this hardware to work.