Abstract: Buying a new computer can be a confusing process if you're not techno-literate. The first step is to identify what your computer needs are, and roughly how much you're willing to spend.

Home > Reviews > Beginners Guides > PCSTATS
nVIDIA PureVideo and High Definition Content
Nvidia PureVideo & HD Content Playback

Source: nVidia.com

Playing high definition content on current generation PCs can bog down even the fastest processors because there is more data to handle. nVIDIA PureVideo enables computer users to view MPEG-2/DVD and WMV High Definition formats on the monitor without slowing the Sempron 3600+ system to a crawl. The PureVideo standard incorporates a hardware accelerator for the afore mentioned MPEG-2/DVD, and Microsoft Windows Media High Definition Video standards (WMV HD). According to nVIDIA's documentation on PureVideo, the GPU (GeForce 6 and 7 series GPUs) takes on video decoding tasks from the CPU, and the end result is smoother, shutter free High Definition playback. nVIDIA PureVideo also supports most current and future high definition formats.

To test PureVideo's High Definition accelerating capabilities PCSTATS will play back a video downloaded from Microsoft's WMV HD Content Showcase through Windows Media Player 10. "The Discoverers" (IMAX) video is available in both 720P and 1080P formats. Processor utilization will be monitored via Task Manager; lower utilization is better.
High Definition Content Playback Utilization Results
720p Resolution:
1080i Resolution:
CPU usage hovers between the 20-30% mark when running the 720P version of The Discoverers video. That leaves plenty of CPU resources for the rest of the system to do other things in the background.
When running the 1080P version of The Discoverers video, CPU usage jumps to the 40-50% CPU mark. While it's relatively high, it does allow for background services to be run without much issue. It should also be noted that the Sempron 3600+/GeForce 6150 combo can play High Definition videos without any problems or the need to buy a fancy videocard.
Now that PCSTATS has talked about all the different hardware that can be used to build a budget PC, and showed you the benchmarks for our system with a couple of different variables, where does that leave us? The final words on this system, and our own take on how it stacked up against expectations is next...
Great Expectations, Modest Budget
It's that time of year again when PC prices magically fall, and on the horizon a new back to school PC is just starting to step out of the back of your mind. So let's be frank, researching info on the internet, typing out emails and documents and making pretty charts does not require a lot of PC power. If you're looking to build a basic PC, you do not have to blow a lot of money on a new computer for those tasks for those kinds of tasks. A basic computer is more than adequate and best of all can be put together for a very low cost.

In this article PCSTATS opted for the 2.0GHz AMD Sempron 3600+ processor. It gave us good value next to an equivalent class Intel CPU, and it can be upgraded easily to something higher end in the future (ie. Athlon64 X2).
The GeForce 6150 powered Albatron KM51PV-AM2 motherboard comes with everything a budget system needs; onboard video, audio, Gigabit LAN and Serial ATA II channels, PCI Express x1, x16 and two PCI slots. Best of all this motherboard can be had for around $100 CDN!
Along with the AMD Sempron 3600+ processor and Albatron motherboard is a 1GB set of Crucial PC2-4300 memory. When running in dual channel mode, the Crucial PC2-4300 RAM offers more than enough bandwidth to keep the Sempron 3600+ happy, and you can sleep easy at night knowing Crucial has an excellent customer service record (heck, we buy our memory there too).
The real question in all of this is how the AMD Sempron 3600+ budget PC system we've assembled here compare in workstation style tasks? When it comes to conventional uses like word processing, spreadsheets and surfing the internet, this budget PC was good on the whole - not the fastest but not underpowered either. It's not as powerful as an Athlon64 X2 5000+ or Pentium 4 940 for sure, but the performance difference shouldn't be restrictive to any degree.
Applications such as Photoshop, 3DS Max or Microsoft's Media Encoder definitely tax the system more but the AMD Sempron 3600+ system still fairs satisfactorily. If you find the CPU becomes too slow for your liking, simply upgrade it, the system will accommodate any other socket AM2 AMD processor!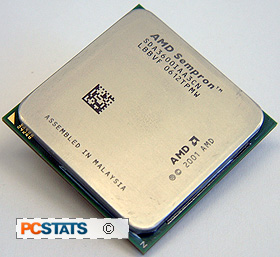 If you've been bitten by the gaming bug, the AMD Sempron 3600+ will not blow the doors off the latest videogame titles... but it will provide you adequate framerates. Upgrading from the integrated videocard to a stand alone PCI Express videocard will net the largest improvement, and it's basically a necessary step if you really get into gaming.
For reference, PCSTATS has shown how a Sempron 3600+ and GeForce 7800GTX, and also a mainstream 7600GT videocard compare against higher end PC systems. The latter offers a good mix of performance and value.
To give you a price comparison, the Sempron budget PC built as per the system test specs without a videocard would only about $387US while the AMD Athlon64 X2 5000+ system would cost around $900 US, more than twice the price! Even with a GeForce 7600GT videocard total price of the system would be $479 US while the X2 5000+ system would go for just under $1100 US! Sure the AMD Athlon64 X2 5000+ system is faster but is it worth twice the price? ;-)
It's highly unlikely that someone building a budget PC will install the super nice 74GB Western Digital Raptor hard drive ($133 US), a more conventional desktop HDD that's around 250-300GB run in the range of $80US. More hard drive space and cheaper overall, it's a win-win right? While the conventional drive is slower than the WD Raptor, it would not affect benchmarks much as office applications are mostly user limited. Gaming tests tend to stress the CPU, memory and videocard on average.
As you've seen from the budget PC system PCSTATS has pieced together here, you can get good value without spending a fortune if you're willing to work with PC hardware that has been on the shelf a while. Faster and newer is always going to be great, but inexpensive and competes well will save you at the pump. It all comes down to what you need to do with a computer, and realizing that most applications and internet work aren't all that intensive.
Find out about this and many other reviews by joining the Weekly PCstats.com Newsletter today! Catch all of PCSTATS latest reviews right here.
Related Articles
Here are a few other articles that you might enjoy as well...
- Shuttle XPC SN27P2 Small Formfactor Socket AM2 Barebones PC Review
- AOpen miniPC MP915-B Super Multi System Review
- Shuttle XPC SD11G5 Small Formfactor PC Review
- Canada Computers Content Creator X2 Workstation System Review
- Soltek EQ3501-300PW QBiC Mania SFF PC Review