I'm sure half you think we're speaking Greek when we talk about chipsets like the Geforce 7050, or AMD 690G. To us, the people behind the pixels, each chipset name and model represents a finite collection of features and supported technologies, not simply a random name and some nice powerful sounding numbers. When we talk about an 'AMD 690G' motherboard, what we're really zeroing in on is its good integrated video, ATI Crossfire compatibility, and best of all HDMI port for bringing High Definition video content out of a Athlon64 computer and on to a High Definition Television.
The Gigabyte GA-MA69G-S3H motherboard PCSTATS is testing today is built around two of AMD's best mainstream chipsets, the AMD 690G Northbridge and SB600 Southbridge. Both are good solid workhorses of the desktop world. The ATX sized board supports all current Socket AM2 AMD Athlon64 X2/FX and Sempron processors, and it has four DDR2 memory slots. An astronomical 16GB of dual channel DDR2-800/667/533 system memory can technically be installed, but realistically it's not possible to find economical RAM modules over 2GB in density. For a computer running Microsoft Windows Vista, a pair of 1GB DDR2-800 memory modules is entirely sufficient.
Today's computer motherboards come with a lot of features built right in, which is one of those reasons why choosing between motherboard A and motherboard B can be confusing. The Gigabyte GA-MA69G-S3H incorporates all the basics any home office PC is ever likely to require.
First and foremost on the list is a little video output standard called HDMI - or 'High Definition Multimedia Interface.' There is one HDMI jack at the back of the GA-MA69G-S3H board, and it doubles up as the board's digital DVI monitor port (care of a short HDMI-to-DVI adaptor) for LCD displays too. The charm of the AMD 690G chipset is its nice integrated videocard, which is also offers us an Analog video output for legacy CRT monitors. PCSTATS will go into the High Definition video output capabilities of the Gigabyte GA-MA69G-S3H a little later in this review, first let's wrap up the features Gigabyte's motherboard brings to the table.
Along with the ATi Radeon X1250 integrated graphics, the Gigabyte GA-MA69G-S3H motherboard comes with a Gigabit network card, IEEE 1394a Firewire (1 at rear, two off headers), four Serial ATA II (w/RAID 0, 1 and 0+1) ports, High Definition Azalia 7.1 channel audio, ten USB 2.0 slots (four at the rear, six off of headers) and a basic collection of peripheral expansion slots.

Gigabyte GA-MA69G-S3H Motherboard



Includes:
User's Manual, Driver CDs, Ultra/133 IDE Cable, Serial ATA Cables, Floppy Cable, HDMI-to-DVI adaptor, I/O Shield
Sadly, a lone TV-output header is made useless with the lack of the necessary bracket to take advantage of it. Brackets can be picked up at most computer stores which will have s-video/composite/component outputs, however simultaneous use of the Analog monitor connection and the tv-ouput is regrettably un-supported.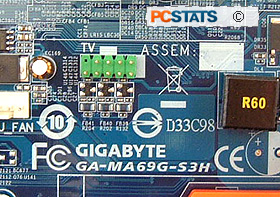 The integrated ATi Radeon X1250 'RD580' videocard is entirely sufficient for running desktop 2D applications within Windows XP or Windows Vista, however if gaming is your thing it's better to install a standalone PCI Express x16 videocard. The Gigabyte GA-MA69G-S3H has a unique quality in that it also supports AMD Crossfire - dual PCI Express x16 Radeon's. We'll touch on that in a moment. Gigabyte's GA-MA69G-S3H board is equipped with three PCI Express x1 slots, one PCI Express x4 slot which can accept PCI Express x8 or X16 cards also, two 32 bit PCI slots for legacy cards and a single PCI Express x16 slot for stand alone videocards.
As mainstream motherboards go the Gigabyte GA-MA69G-S3H offers a great collection of features and expansion options on a very solid integrated graphics chipset which is Windows Vista Aeroglass compatible (DX9). The board retails for about $104 CDN, ($94USD, £49 GBP) through stores like Newegg or NCIX.
The back of a motherboard where are the cables connect to is called the "rear I/O", and here we find the all important HDMI jack. This port makes it possible to connect the GA-MA69G-S3H up to a high definition television. HDMI replaces the component output and RCA composite video jack with just one simple compact digital cable that provides better video and audio quality. The high definition multimedia interface is an all digital audio/video interface capable of transmitting uncompressed streams. It supports all TV formats, including standard, enhanced, and high definition video, plus multi-channel digital audio over a single cable.

Gigabyte have opted to include an HDMI-to-DVI converter, which unfortunately means you cannot use the HDMI at the same time as the computer is connected via a digital DVI cable to an LCD display. The board does have a standard 15 pin analog monitor output for computer displays (LCD or CRT), and this will obviously function just fine with the HDMI port at the same time. The HDMI outputs video at up to 1920x1080p so long as the monitor is HDCP compliant (the motherboard is HDCP ready).
Gigabyte's GA-MA69G-S3H is High Bandwidth Digital Content Protection (HDCP) compliant. HDCP s a form of Digital Rights Management developed by Intel for high definition digital video and audio content. Whether you like it or not, the HDCP signal travels through the DVI or High Definition Multimedia Interface (HDMI) to HDCP compatible display's.