By the time you come to the last page of this review there will be little doubt that ATI is back in the videocard business, big time. After the inevitable stumbling following its takeover by AMD, its engineers and staff fleeing to nVidia, its head offices being consolidated, the five billion dollar arm of ATI is flexing its mighty muscles once more. ATI, now confusingly called AMD, (or is it ATI ?) has blitzed the market with a big red slice of silicon known as the Radeon HD 2900XT graphics processor. nVIDIA, which has gotten used to having free reign in the videocard market, must be sweating at the sight of Crossfire finally working with killer effectiveness.
In this review PCSTATS will be benchmarking a pair of Diamond Multimedia Viper Radeon HD 2900XT 1GB videocards, alone and in Crossfire at stock and overclocked speeds. If high end gaming is your past time, fragging at high framerates your Joi de Vive, PCSTATS has laid down seven frag-tastic pages of videocard benchmarks! Everything from synthetic 3DMark tests to DirectX9.0 and DirectX10 game titles are represented.
ATI, DirectX10 & Vista
Given the upheaval of a post-merger situation, the slow adoption of Microsoft's Windows Vista operating system has actually worked in ATI's favour. DirectX 10 game titles like Crysis, Microsoft Flight Simulator X and Unreal Tournament 3 are still on the horizon, rather than being old hat before it even launched the Radeon HD 2900XT graphics card. Consumer demand for DirectX 10 compatible videocards is only set to ramp up from now on.
Nothing gets the juices flowing more than a couple of top of the line videocards fresh out of the box. Diamond Multimedia is getting back into high end videocards, and what better way to reintroduce itself than by releasing a videocard based on AMD's blistering 720 million transistor Radeon HD 2900XT GPU, with a staggering 1GB of GDDR4 memory no less! It's ATI's absolute best technology available, and PCSTATS has two of these bad boys on the test bench today. Yes, we're happy campers. :) The ATI Radeon HD 2900XT VPU core runs at 743 MHz while the 1GB of GDDR4 memory hums along at a very sweet 2 GHz! In pairs, the Diamond Viper Radeon HD 2900XT is ATI Crossfire compatible on supporting motherboards.
You to can share in the joy of a flagship gaming experience, but with a retail price of $520 CDN ($499 USD, £243 GBP) per Radeon HD 2900XT1GPE videocard, it's not for the faint of heart. It takes two Diamond 2900XT1GPE videocards to enable Crossfire; I'm sure you can do the math on that.
Diamonds' retail package includes two DVI to analog converters, a Component output cable, a S-Video/Composite VIVO cable, a DVI to HDMI adapter and one CrossFire Bridge connector. The Diamond Viper videocard PCSTATS tested did not come with any games, but then again only Company of Heroes and a couple other demos can show off the videocard's DirectX 10 powers anyway.

| | | |
| --- | --- | --- |
| | Diamond Viper Radeon HD 2900XT 1GB | |
| | | |
The Diamond Viper Radeon HD 2900XT videocard is equipped with a whopping 1GB of GDDR4 Samsung memory. The card is a dual slot affair, with one space devoted entirely to heatsink hot air exhaust vents. The videocard has two DVI outputs and a Video In Video Out port (courtesy of the Rage Theatre 200 chip) so you're pretty much covered all around.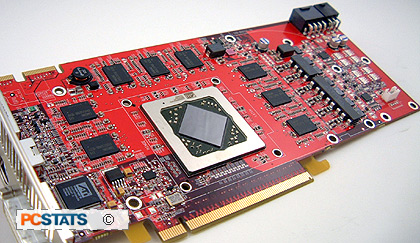 The Diamond Viper Radeon HD 2900XT can be run in Crossfire mode with a second identical videocard, on compatible motherboards with have two PCI Express x16 slots. A little later in the review PCSTATS will be benchmarking a pair of the Viper Radeon HD 2900XT 1GB's in Crossfire mode, and even try our hand at overclocking the tag team. It should be fun!

If you want to run CrossFire you'll need a motherboard based on AMD's CrossFire Xpress 3200, CrossFire Xpress 1600, or Radeon Xpress 200 CrossFire, Intel 975X Express, P965 Express, 945 Express or Intel's new P35 Express chipset.

The Diamond Viper Radeon HD 2900XT videocard is a full sized PCI Express x16 solution, measuring a good 24cm long. Team that up with the reference dual slot cooler and we've got a very big videocard here. Leave a space between the Diamond Viper and the next expansion device, or it may be cramped for airflow.

The Diamond Viper Radeon HD 2900XT videocard comes packing ATIs reference heatsink; it looks good, cools well, and runs pretty quietly.

Like the nVIDIA GeForce 8800GTX/Ultra videocards, the Viper Radeon HD 2900XT requires a lot of power. An 8 pin PCI Express power connector and 6-pin connector are both necessary for the HD 2900Xt to operate properly. Power supplies that do not have the newer 8 pin connector can still be used because the 8 pin slot is backwards compatible with the 6-pin "SLI power connector".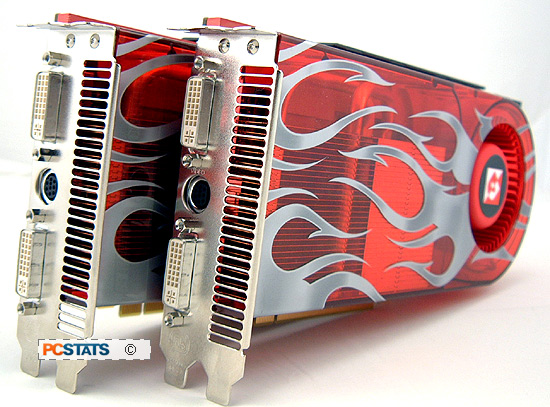 PCSTATS tests twin HD 2900XT 1GB videocards in Crossfire for you!
Energy efficiency is obviously not the order of the day with a videocard that requires two additional sources of power... as you'll see by the power draw measurements a little later. Diamond recommend using a minimum 750W power supply with two 6-pin PCI Express power connectors with this videocard. AMD's website lists a couple dozen Crossfire compatible PSUs if you find yourself out gunned.
I think nVIDIA and ATI/AMD both really ought to deal with the spiraling power requirements of high end videocards. A minimum 750W power supply is pretty intensive wouldn't you say?
Up next, the Radeon HD 2900XT gets stripped naked.