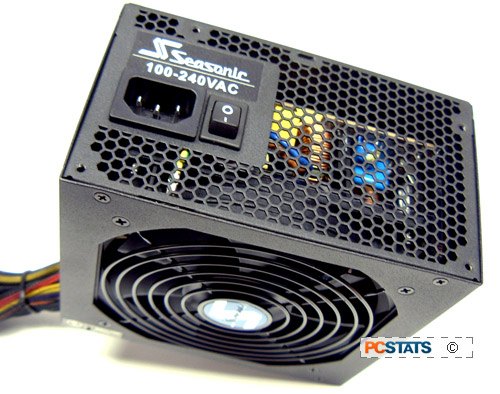 The Seasonic S12 series is arguably one of the better power supply breeds around, so it is nice to see the company going back to what works and improving the design. A single conductive polymer aluminum solid capacitors is tucked away on the inside. You can't see it, but if it aids in +12V rail reliability and stability then it's well worth it.
That's not to say that we're swept up off our feet by a single conductive polymer aluminum solid capacitor. No, it is the overall package - low noise, great power efficiency, good cabling - that gets our attention. All three.
If you're unsure of what to look for in power supplies at the store, start with the 80 PLUS rating. Technologies like Active Power Factor Correction and 80 Plus simply mean your PC will use less electricity to get the job done.
A cheap $40 500W power supply that has neither rating could conceivable consume +200W to deliver 120W of power. The Seasonic S12 II consumes 145W to deliver 120W of power. That difference is made up of heat, and higher power bills over the course of a year.
The Seasonic S12 II 500W power supply retails for a very competitive $115 CDN ($110 USD, £55 GBP). It's in the same range as mainstream Thermaltake, Enermax, Kingwin power supplies but Seasonic is definitely in a class above. The S12 II 500W is ATX2.2 spec compatible which means it'll run the latest and greatest motherboards, processors and of course videocards. Depending on the configuration, flagship SLI or Crossfire videocard platforms may be a little much for this 500W unit, so double check your videocard power requirements and AMDs/nVidia's list of certified power supplies for the particular videocard model first.
The addition of a conductive polymer aluminum solid capacitor on the 12V rail is innovative, but is it really necessary? I don't know. Where the S12 II rocks is with its stable voltages and excellent efficiency. PCSTATS' tests indicated that the S12 II 500W unit tested had an efficiency of 82.7%!
That is most efficient power supply we've tested to date. Considering how much energy prices have gone up, this power supply could certainly save money in the long run, particularly when compared to a generic unit with neither A-PFC or 80 Plus rating.
Seasonic has put together another solid power supply, and best of all the S12 II 500W is priced pretty darn aggressively. Recommended.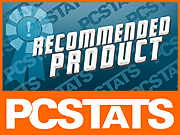 Find out about this and many other reviews by joining the Weekly PCstats.com Newsletter today! Catch all of PCSTATS latest reviews right here.
Related Articles
Here are a few other articles that you might enjoy as well...
- Cooler Master Real Power Pro 750W Power Supply Review
- GlacialPower GP-PS550BP 550W Power Supply Review
- HEC Zephyr 650W Power Supply Review
- Zalman ZM600-HP 600W Heatpipe Cooled Modular Power Supply Review
- Corsair HX620W Modular Power Supply Review