Computer enthusiasts are a fickle bunch, yet Seasonic prove that you can enter this market with success, provided the gear's up to snuff. Flashy items with lots of gimmicks may attract initial attention, but the novelty tends to wear off just as quickly. That's one reason why I think you won't find many true PC enthusiasts with Thermaltacky gear in their PCs.
Seasonic power supplies have gotten a bit more stylish over the years, but we don't judge them by the outside. It's the circuitry on the inside that really matters. The Seasonic S12 II 500W power supply PCSTATS is testing today is exactly the same as the S12 model that came before it, except for the addition of a single conductive polymer aluminum solid capacitor on the all important 12V rail. The company hasn't replaced every single electrolytic capacitor in the unit with this type, just the one voltage rail where reliability is likely to matter the most. The other caps range in brands, including Japanese favourite Rubycon.
On the outside, the Seasonic S12 II has a nice matt black finish. Now I don't know about you, but we're tired of buffing fingerprints off of power supplies before we take photos; I can only imagine your frustration with these infernal glossy paint jobs...
The Seasonic S12 II 500 (SS-500GB) power supply carries a vast number of ratings, including 80 PLUS (even among top of the line units, this is a rare and positive distinction), Active Power Factor Correction (to 99%PFC) and universal AC support (120/240VAC). Low noise operation is addressed with a quiet thermally controlled 120mm fan set on rubber mounts to absorb fan vibrations, and stylish honeycomb venting at the rear. In addition to the conductive polymer capacitor, the S12 II 500 features multiple +12V rails, universal videocard support and a 3 year warranty. The power supply supports nVidia and ATI videocards with the new high power eight-pin PCI Express power connector (albeit only one).

Seasonic S12 II 500W Powe Supply

Includes:

User's Manual, Power Cord, Screws, Molex to Dual Floppy Power Connector
Only the basics are included, a molex to (2) FDD power connector, case mount screws and AC power cord. The Seasonic S12 II 500 retails for about $115 CDN ($110 USD, £55 GBP) , easily within the price range of the average computer user.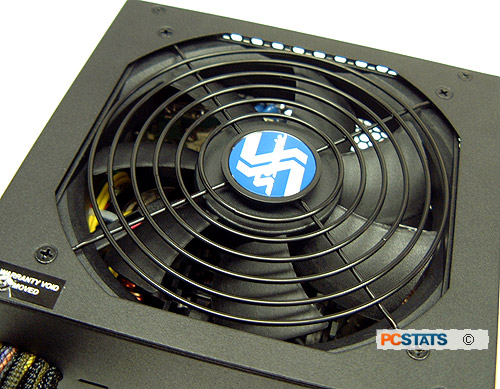 The Seasonic S12 II 500W power supply is the regular ATX size: 150 x 140 x 86mm. There won't be any problem fitting this PSU into your case. The finish is a matte black which is what we usually prefer as it does not smudge or get dirty easily. At the bottom of the power supply there is a single 120mm fan which draws in warm air from within the computer, expelling it out the rear via a honeycomb mesh.
In typical Seasonic fashion, the 120mm fan is temperature controlled and during normal operating the power supply is nearly silent.
The S12 II power supply is compatible with ATX 2.2 spec standard and supports the 24 pin ATX power connector by default. Pins 21-24 are detachable from the power lead to accommodate 20 pin ATX power connector motherboards.
According to the Seasonic label, the +3.3V and +5V rails can both deliver 24 Amps, for a total combined output of 130W. There are two +12V lines, each can output 17 Amps for a combined output of 480W.
The Seasonic S12 II 500W supports Active Power Factor Correction (A-PFC) which improves efficiency, reduces heat and uses less power. A-PFC circuitry works with a wider voltage range (115VAC of North America to 230VAC of Europe).
Let's take a closer look at the Seasonic S12 II 500W power supply from a couple different angles, and take a quick peek inside...