Overclocking Results:
The Super Talent W1866UX2G8 was installed onto an Asus BLITZ EXTREME (Intel P35 Express / DDR3) motherboard for testing and a 1333MHz FSB Intel Core 2 Duo E6750 processor was selected. Before the overclocking began the CPU clock multiplier was set to 6x.
Starting from 1333 MHz, the front side bus speed was increased by 20 MHz.
A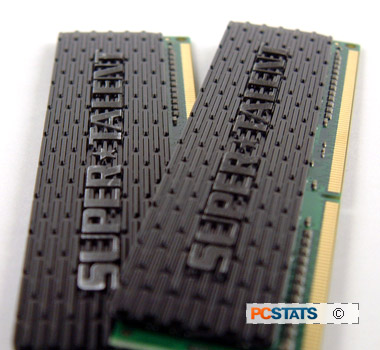 t 1560 MHz, the computer started exhibit some stability issues, so voltage was increased from 1.5V to 1.7V. That allowed the memory to stabilize and PCSTATS was able to continue pushing the Super Talent W1866UX2G8 further. The DDR3 easily broke 1600 MHz, then 1700 MHz, before yet another voltage tweak was needed.
At 1740 MHz the Super Talent W1866UX2G8 DDR3 memory required a bump to 1.9V. That allowed the memory to reach a maximum speed of 1780 MHz with tight CAS latency timings of 7-7-7-20.
PCSTATS next loosened up the timings to the default 8-8-8-24 value, and prepared this 2GB kit of Super Talent DDR3 for flight.
With a voltage of 1.9V and CAS latency set to 8-8-8-24, the Super Talent W1866UX2G8 DDR3 memory reached a maximum speed of 1900 MHz. Pretty good all things considered, it certainly met the 1866MHz speed it is rated to achieve.
I could have went ahead and pumped even more voltage into the W1866UX2G8 memory, but I'm not sure that would have allowed further speed advances. As this is the second pair of DDR3 to cross the test bench, we're still feeling out the limits of DDR3 overclocking.
Prelude to Benchmarks
The details of how the Super Talent W1866UX2G8 DDR3 memory test system was configured for benchmarking, including the specific hardware, software drivers, operating system and benchmark versions are indicated below. In the second column are the general specs for the reference platforms this pair of PC3-14900 DDR3 memory is to be compared against. Please take a moment to look over PCSTATS test system configurations before moving on to the individual benchmark results.

PCSTATS Test System Configurations
test system
processor:

intel Core 2 Duo E6750

Clock Speed:

8 x 333 MHz = 2.66 GHz

Motherboards:

Asus BLITZ EXTREME (Intel P35 Express / DDR3)

Videocard:
Memory:
2GB Kit Corsair DOMINATOR Twin3X2048-1800C7D (DDR3)
2GB Kit Super Talent W1866UX2G8 (DDR3)
Hard Drive:
74GB Western Digital Raptor WD740
CDROM:
AOpen Combo 52x
PowerSupply:
PC Power & Cooling TurboCool 510 SLI
Heatsink:
Intel Reference
Software Setup:

Microsoft Windows Vista Ultimate
Intel INF 8.3.0.1013
nVIDIA Forceware 162.22

Benchmarks:

SiSoft Sandra XI
WinRAR
PCMark05
3DMark06
Doom 3
FEAR
Call of Juarez
Lost Planet