The computer industry plans things out years in advance. Whether you realize it or not, it's already been foretold that you will make the switch from DDR3 to DDR4 memory sometime in late 2010. It's not like you have a choice in this either, tech companies cling tightly to a motto of 'prevention is better than a cure'. Making computer components faster before there is a imminent need for the speed, is the kind of prevention that keeps PCs humming along ahead of the curve. The last thing anyone wants is for the demands of users, applications, the internet or your favourite game title to be twelve months ahead of the hardware to support it.
Whenever Intel and AMD choose to adopt a new memory standard, there is always a transitory period with no clear direction. The new memory standard often promises a lot; faster operating frequencies, increased memory bandwidth, lower power consumption, higher margins for stores... Yet it often just precedes the actual need. This was the case with DDR2 memory when it was introduced in 2004, but no one in their right mind would consider downgrading to a DDR-based computer nowadays. It's the same situation with the shift from DDR2 based PCs to DDR3 based multi-core Intel platforms.
Give it time. Eventually it will become apparent that DDR2 memory can no longer sustain memory bandwidth to satisfy the mathematically derived requirements of quad core processors.
Just in time for quad core processors, DDR3 memory is set to alleviate an impending memory bandwidth bottleneck that hasn't quite materialized. For future-proofing a cutting edge PC though, it's a good option now.
Super Talent introduced some of the first DDR3 memory modules on the market, and in this review PCSTATS is testing the companies' 2GB W1866UX2G8 DDR3-1866 memory kit. Super Talent has these puppies to running at 1866 MHz!
The Super Talent 2GB W1866UX2G8 DDR3 memory kit is designed to run at 1866 MHz with CAS Latency timings of 8-8-8-24, at 1.9V. The old standard for DDR2 RAM was 1.8V, DDR3 calls for 1.5V, so that means DDR3 is technically more environmentally friendly since it's more power efficient. According to the company, each pair of DDR3 memory modules are hand tested on an Asus P5K3 Deluxe motherboard before being shipped. The memory is covered by a lifetime warranty. Sounds good.
The bad? With a retail price of $635 CDN ($605 US, £300 GBP) for the 2GB pair, there's no mistaking that Super Talent's W1866UX2G8 DDR3-1866 memory kit is premium kit. Enthusiast grade DDR3 this early in the game is not cheap, no matter if it's from Super Talent, Corsair, or OCZ... expect high end DDR3 prices to stay in the stratosphere for some time to come.

Super Talent W1866UX2G8 DDR3-1866 Memory
RAM Memory Type: DDR3-1866 / PC3-14900
Individual Module Capacity: 10248MB
Native Speed & Latency: 1866 MHz @ CAS 8-8-8-24
The Super Talent W1866UX2G8 DDR3-1866 memory has the usual custom Super Talent heatspreader, they are nice and slim so modules can be stacked side-by-side in the slots. Double sided tape to secure the heatspreader to the memory module, and it is not advisable to attempt to remove them.
Each DDR3 DIMM is single sided, which means the DDR3 BGA DRAM modules are all located on one side of the PCB. By default the memory timings of the W1866UX2G8 DDR3-1866 memory kit are 8-8-8-24 when running at 1866 MHz, and that requires a voltage of 1.9V (up from the default of 1.5V). At a more relaxed speed of DDR3-1066, the memory can run with 7-7-7-18 timings.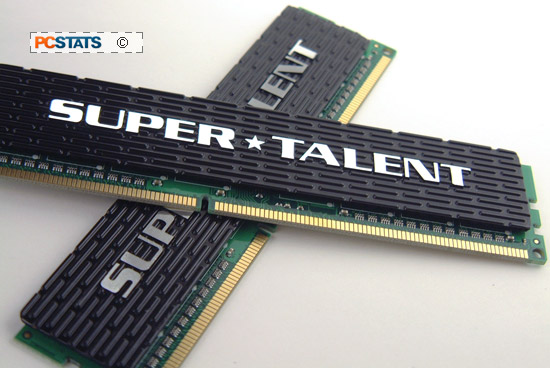 DDR3 and DDR2 Intercompatibility
If you'd like to equip your computer with DDR3 memory, currently motherboards based Intel's P35 or X38/X48 Express chipset are the only option... and then only models specifically built to support DDR3 DIMMs.
The Intel X38 Express chipset, that companies' flagship core logic, will support DDR3, but not DDR2. nVIDIA has not refreshed its nForce motherboard chipset lineup recently, but anticipate it will do so shortly to encompass DDR3 memory.
If you are a loyal AMD user, you'll have to wait a bit longer as AMD has no immediate plans to adopt the DDR3 memory standard.
Each AMD processor has its memory controller built right into the core, so DDR3 can only be adopted when the underlying CPU architecture calls for it. As it stands, the AMD 'AM3' processor, due late 2008 is the first AMD CPU road-mapped for DDR3 memory. Generally speaking, the AMD Athlon64 processor series does not have major bandwidth issues, due to a well designed memory controller.
PCSTATS will take you for a closer look at the DDR3 memory standard next, before running through what are set to be a very exciting overclocking session.