The HTPC revolution is moving along nicely and with broad support from hardware manufacturers, things look like they're about to kick into high gear. Personally I love home-built dedicated entertainment computers; playing music and movie off of disks just seems so quaint in comparison to fully digital formats.
Besides competition between the various computer manufacturers, a close eye must be kept on video game consoles too. The Sony Play Station 3 and Microsoft Xbox 360 consoles each play standard DVDs along with the next generation media (PS3 Blu-Ray, for the Xbox 360 it's HD-DVD). The trump card for a computer based entertainment system is its ability to do other things, whether that be stream audio from internet radio, act as an MP3 workstation or allow you to surfing the internet for videos of your favorite shows to play back on the television.
Multimedia PC's can come in all shapes and sizes, from devices that look like a regular PC, to hardware right at home in an entertainment center. Heck, some media-center PCs are small enough to mount on the back of that Plasma or LCD TV! (see the Aopen Mini PC here if you don't believe me! ) Most people choose the MicroATX form factor when building an entertainment machine, it's small enough to get tucked away next to a HDTV, and big enough to work with standard computer hardware, videocards and peripherals. Using standard desktop components is less costly than nano-ITX platforms with all laptop-grade gear.
At the forefront of media-center tuned motherboards right now is AMD's aggressively promoted AMD 690G and SB600 chipsets. This platform features integrated video, and has done wonders to wrestle marketshare away from nVIDIA core logic. The Foxconn A690GM2MA-RS2H motherboard is based around AMD's 690G / SB600 chipsets, and although it has both DVI and analog video outputs, it regrettably lacks the HDMI jack that many other AMD690G motherboards boast.

Foxconn A690GM2MA-RS2H Motherboard



Includes:
User's Manual, Driver CDs, Ultra/133 IDE Cable, Serial ATA Cables, Floppy Cable, I/O Shield
It's AM2 Socket supports all current 940-pin AMD AM2 processors from the Sempron to Athlon64 X2/FX. There are four DDR2 memory slots which can support up to 8GB of DDR2-800 memory running in a dual channel configuration.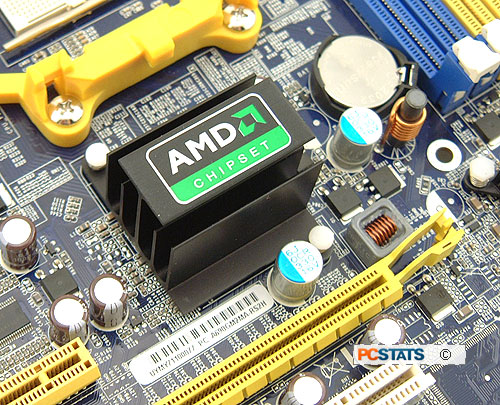 The Foxconn A690GM2MA-RS2H comes integrated with a 5.1 channel High Definition Azalia audio controller, a Gigabit network card, four Serial II slots and of course an onboard Radeon Xpress 1250 videocard.
It has a PCI Express x16 slot for videocards, PCI Express x1 slot for high bandwidth devices and two 32 bit PCI slots for expansion. Four 3.0GB/s SATA II port give broad hard drive support, and can be configured in RAID 0,1,0+1. With a retail price of $69 CDN ($71 US, £35 GBP) the Foxconn A690GM2MA-RS2H is ideal for a low cost multimedia platform.
One area where Foxconn really excels is its product design and layout. Right from the get go, Foxconn motherboards have been very user friendly and the A690GM2MA-RS2H is a prime example.
IDE, Floppy and the main ATX power connector are placed on the right hand side of the memory slots which makes keeping cables away from the other peripherals easy. The Serial ATA and USB headers are all placed neatly at the bottom right hand corner of the motherboard.
Considering the AMD 690G chipset supports HDMI along with HDCP, it would have been nice if Foxconn placed a HDMI connector on the rear I/O. In any case if you wanted to hook up the Foxconn A690GM2MA-RS2H motherboard to a HDTV, there's always the DVI port. Either connect the system to the TV via DVI or get yourself an HDMI to DVI converter... though sadly this method means audio won't be delivered through the same cable. External SATA is also something that we would have liked to see on the back I/O of the motherboard.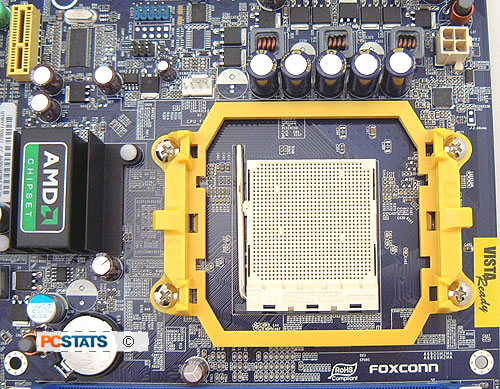 The Foxconn A690GM2MA-RS2H motherboard is High Bandwidth Digital Content Protection (HDCP) compliant. HDCP s a form of Digital Rights Management developed by Intel for high definition digital video and audio content. Whether you like it or not, the HDCP signal travels through the DVI or High Definition Multimedia Interface (HDMI) to HDCP compatible display's.
As you can expect, with a low retail price you don't really get much with the Foxconn A690GM2MA-RS2H besides the basics. It's chipset screams home theatre capabilities, but Foxconn have built the A690GM2MA-RS2H motherboard more as a integrated motherboard for boring old desktop work than anything else.
The AMD Radeon X1250 (read about its capabilities here, if you'd like a little more detail) is good for 2D office applications like Word, or email or websurfing.
Office PCs rarely if ever need strong 3D gaming performance (unless someone's slacking off naturally), so this arrangement lets consumers skimp on buying a pricy videocard, and as needs change or your budget materializes an appropriately powerfup PCI Express x16 videocard can be installed. Integrated motherboards are good that way; cheap to build into a PC, and featured enough to accommodate a mid-level or high end videocard as requirements mature.
Okay, on to the highlights of the Foxconn A690GM2MA-RS2H motherboard...