Motherboard chipsets like nVidia's GeForce 6150 and AMD's 690G are working hard to shed the negative stigma around "integrated video". In fact, these integrated graphics processors (IGP) are perfectly adequate for 2D work, home entertainment and casual light 3D gaming. Bet you never thought we'd say that! ;-)
Most onboard video solutions support analog and DVI monitors, a few offer the convenient HDMI output for sending high definition video and audio to a HDTV. Given this variety of video output, it's safe to say that sub-par 2D video is a thing of the past. Though to be clear, there is still a big difference when it comes to 3D gaming. That's expected, that's why there are PCI Express videocards that cost as much as an entire computer after all.
Shortly after ATI was bought up by CPU maker AMD, out came the AMD 690G integrated chipset. AMD's 690G has resonated strongly with a lot of consumers for its decent 3D gaming (for an IGP that is), optional HDMI jack right on board, and general performance stance against Intel's IGPs. The AMD 690G and nVIDIA GeForce 7050PV chipset offer similar features on paper, but in real world testing the AMD 690G easily goes toe to toe with nVIDIA's best. Considering the volume of AMD 690G motherboards on the retail market, it's obvious that motherboard manufacturers like this solution.
In this review PCSTATS will be testing out MSI Computer's K9AG Neo2 Digital motherboard. The MSI K9AG Neo2 Digital is one of the few full size ATX motherboards build on AMD's 690G northbridge and SB600 southbridge chipsets. The board supports all Socket AM2 processors on the market, and it's four DDR2 memory slots support a maximum of 8GB of DDR2-800 unbuffered memory.

MSI K9A2 Neo2 Digital Motherboard



Includes:

User's Manual, WindowsXP Driver CD, Windows Vista Driver CD, Serial ATA Cable, IDE Cable, Molex to Serial ATA Power Cable, USB Header Bracket, I/O Shield
Looking at the MSI K9AG Neo2 Digital we find integrated video (DVI and Analog) out back, an integrated HDMI output, a PCI Express based Gigabit network card, two IEEE 1394a ports, a Realtek 7.1 channel High Definition Azalia audio codec, four Serial ATA ports (RAID 0,1,0+1), and one IDE channel. Expansion comes care of a PCI Express x16 slot for standalone videocards, two PCI Express x1 slots and three PCI slots.
The MSI K9AG Neo2 Digital motherboard retails for little more than $86 CDN ($85 USD, £42 GBP). Given what's offered, it's a very well priced board for just about any low cost PC you've got on the drawing board. This is particularly true when the affordability of a good mid-level AMD Athlon64 processor is considered. In this review PCSTATS will be running our benchmark suite with an Athlon64 X2-5000+ in the drivers seat, but you could just as well substitute an AMD Athlon64 X2-6000+ for about $180.
Three Video Outputs on One Integrated Motherboard
The MSI K9AG Neo2 Digital motherboard is refreshingly compact ATX, so it will fit cleanly into tight cases that have the 5.25" bays positioned closely to the motherboard tray. The layout of the motherboard is alright; MSI could have placed the floppy drive connector in a better location, but otherwise I don't have any specific complaints.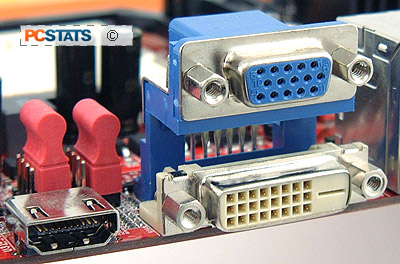 I like how the rear I/O is configured, there are plenty of USB slots (four) as well as an IEEE 1394a port immediately available. Ports are great, but it's rather annoying when motherboards come with all the jacks via PCI brackets.
MSI's K9AG Neo2 Digital has an HDMI port right at the back. That means the K9AG Neo2 Digital is ready for HTPC use right out of the box - as opposed to a DVI-to-HDMI converter, the HDMI jack signifies it has audio as well as video signals. The former can only provide the HDMI video signal.
The HDMI connector on the MSI motherboard support High Definition digital audio output, this allows for a cleaner and easier connection. The AMD 690G supports video outputs as high as 1920x1080p, as long as the display you're outputting video to supports that high a resolution.
MSI's K9AG Neo2 Digital is High Bandwidth Digital Content Protection (HDCP) compliant. HDCP s a form of Digital Rights Management developed by Intel for high definition digital video and audio content. HDCP protected signal travels through the DVI or High Definition Multimedia Interface (HDMI) to HDCP compatible display's. Anyhow, you probably know all about HDCP by now, so on with the review. Next up, PCSTATS takes a closer look at some of the highlights of the MSI K9AG Neo2 Digital.