Overclocking Results:
When it comes to memory testing, PCSTATS has a lot of experience under our belt to rely on... yet while we've tested a handful of DDR3 memory modules I think we're still a little green on DDR3's full capability. This will be the first time we're overclocking DDR3 memory modules with tight timings, so it's uncharted waters for the Mushkin HP3-10666 RAM.
Each 1GB stick of Mushkin HP3-10666 was installed into an Asus BLITZ Extreme motherboard, along with an Intel Core 2 Duo E6750 processor. Before the overclocking began, the CPU clock multiplier was set to 6x so the processor would not limit the memory.
Starting at 333 MHz, the Mushkin HP3-10666 memory speed was increased in 5 MHz increments. Early on it was clear that these DDR3-1333 modules wouldn't get very far tight 6-7-6-18 timings. The ASUS Blitz Extreme motherboard had just reached 350 MHz FSB (1400MHz memory speed) when the system started to show signs of instability, which demanded an increase in memory voltage to 1.9V.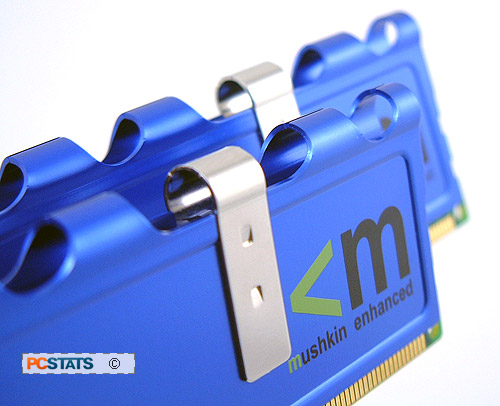 The Mushkin HP3-10666 memory didn't overclock any further with its tight timings, and in the end reached a maximum speed of 363 MHz FSB, or 1452 MHz memory frequency.
Pushing the Mushkin HP3-10666 memory harder, either by raising the voltage or speed, didn't help.
Let's loosen the memory timings and see how the Mushkin memory handles overclocking with lax timings.
Starting from the 363 MHz point, with timings loosened to 8-8-8-24, we began overclocking the Mushkin HP3-10666 again.
The Mushkin memory handled the speed increases much better this time around, reaching a maximum speed of 1760 MHz with 2.0V. It's not the best overclock we've seen from the small collection of DDR3 memory PCSTATS has tested thus far, but it's not bad either. The Mushkin HP3-10666 is for low latency memory users, not those who want really high speeds.
You'll see in the benchmarks shortly what latency does for performance. Any guesses?
Prelude to Benchmarks
The details of how the Mushkin HP3-10666 DDR3 memory test system was configured for benchmarking, including the specific hardware, software drivers, operating system and benchmark versions are indicated below. In the second column are the general specs for the reference platforms this 2GB pair of HP3-10666 DDR3 memory is to be compared against. Please take a moment to look over PCSTATS test system configurations before moving on to the individual benchmark results.
On Intel Socket 775 Core 2 Duo test systems, we're only interested in seeing how high we can go with the DDR3 memory running 1:2, as running with other dividers puts the overclocking bottleneck elsewhere and not with the system memory. The DDR3 RAM latency must run at its lowest possible setting, as quick access is more important to the CPU design. Just for arguments sake, we will also be conducting overclocking tests to see how high the memory will go with lax timings (8-8-8-24), although we will only benchmark the system with the tight memory timings.