Mushkin is easily recognizable as an enthusiast memory manufacturer, so it's no surprise the company is quick out of the gates with fast DDR3, 1333MHz in fact. Mushkin is turning up the heat and while the DDR3 standard may be in its infancy, from an overclocker's stand point it's simply a fantastic time.
Given the high price premium on DDR3 RAM, companies are only releasing enthusiast caliber memory modules. The competition is so close that what's making it to store shelves is literally the cream of the crop. Pricey... sure, but fast as you can wish for. When it comes to performance there are two ways to improve memory, bump up the speed (which is how most manufacturers have been doing things) or lower memory timings.
Mushkin has taken the latter approach, which is a nice change from the usual high speed DDR3 memory we've seen on the market that has lax timings.
In fact, as of this review Mushkin have the lowest latency DDR3 memory out.
The Mushkin memory that's up for testing today is its 2GB HP3-10666 (DDR3-1333) memory kit. By default the memory is rated to run at 1333 MHz with low CAS latency timings of 6-7-6-18, on a voltage of 1.7-1.8V. Much of the DDR3 memory on the market has a CAS Latency of 7 or 8, so Mushkin's memory here will perform faster clock for clock compared to the competition!
The Mushkin HP3-10666 memory is not quite available, but you can expect prices in the range of $500 for the pair.

Mushkin HP3-10666 Memory
RAM Memory Type: DDR3-1333 / PC3-10666
Individual Module Capacity: 10248MB
Native Speed & Latency: 1333 MHz @ CAS 6-7-6-18
Mushkin stick with their custom FrostByte aluminum heatspreaders to keep the DDR3 memory modules running cool, and safe from physical damage. The memory heatspreaders are a little taller than average. They are nice and slim, so there won't be any problems installing the Mushkin HP3-10666 memory into tight cases, or SFF machines. PCSTATS does not recommend attempting to remove heat spreaders from BGA RAM modules, doing so will most likely result in dead memory! Trust me, we learned the hard way.
Mushkin has an excellent support system, as do virtually all online memory stores. There are online support forums, online RMA services, and a toll free 1800 number. If problems arise, you're set no matter what happens.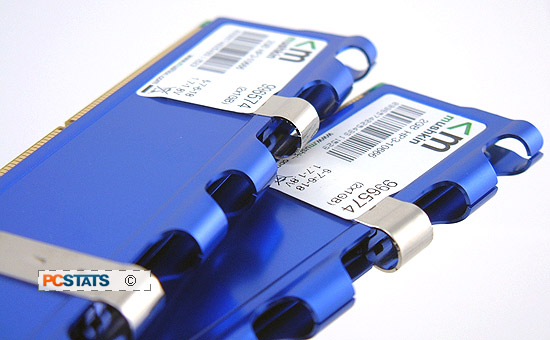 Now onto the good stuff.... These 2GB blue babies are rated to run at DDR3-1333 speeds, with 6-7-6-18 timings and a voltage of 1.7-1.8V.
So far the DDR3 memory PCSTATS has tested has run at 7-7-7-20 or 8-8-8-24! As always, with latency timings, lower times are best. A couple of years ago PCSTATS demonstrated the affects of memory timings with DDR memory, well the same general rule applies with DDR2 and DDR3 memory as well.
If you stock your enthusiast grade PC with memory featuring tight timings, that usually means forgoing high operating memory speeds for net performance. In other words, users looking at the Mushkin HP3-10666 should not expect to break technical speed records. That doesn't mean this modules are going to be slow though... quite the contrary in fact.
Current DDR3 Chipsets?
If you'd like to equip your computer with DDR3 memory, currently motherboards based Intel's P35 or X38/X48 Express chipset are the only option... and then only models specifically built to support DDR3 DIMMs. The Intel X38 Express chipset is the flagship choice. If you're an AMD user, you'll have to wait a bit longer; currently none of its processors utilize DDR3 RAM. Each AMD processor has its memory controller built right into the core, so DDR3 can only be adopted when the underlying CPU architecture calls for it. As it stands, the AMD 'AM3' processor, due late 2008 is the first AMD CPU road-mapped for DDR3 memory.
PCSTATS will take you for a closer look at the DDR3 memory standard next, before running through a very exciting overclocking session!