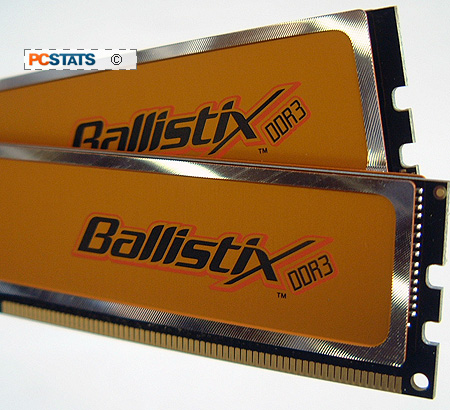 While DDR2 and DDR3 RAM Dual Inline Memory Modules (DIMMs) are physically the same size, and contain the same number of little gold teeth (240), each class of memory is keyed differently and so neither is interchangeable with the other socket.
DDR3 memory modules like the Crucial Ballistix PC3-12800 CL8 memory will not work in a DDR2 memory socket, even if the motherboard chipset technically supports the DDR3 standard - as is the case with the Intel P35 Express, and some boards based on the Intel X38 chipset.
Conversely, DDR3 memory is not backwards compatible with DDR2 memory slots.
One obvious difference between DDR3 memory and its predecessor is that DDR3 operates with less voltage. DDR-3 RAM requires 1.5V, while DDR2 demands 1.8V power. Next, unique memory slots prevent DDR3 memory from being installed in a DDR2 memory slot, and vice versa.
The memory standards themselves are not compatible, so neither are the sockets.
DDR3 memory is not really expected to take hold until mid-2008, when quad-core processors are basically mainstream chips. It's hard to say where AMD will stand on all of this, its 'K10' microprocessor architecture is not expected to adopt DDR3 RAM until 2009 according to the last report PCSTATS saw.
In any case, as with all new memory standards it's important to state the obvious to minimize confusion from the start.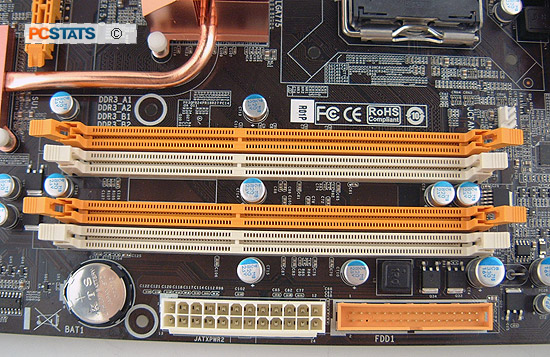 These are 1.5V DDR3 memory slots. They look exactly like DDR2 slots, except for the 'key' which is in a slightly different position. Below is a DDR3 memory module over top of a DDR2 module. Note the subtle difference where the DDR3 module is 'keyed' with respect to the DDR2 module. Both memory standards have exactly 240 gold connectors, DDR3 operates at 1.5V, DDR2 at 1.8V.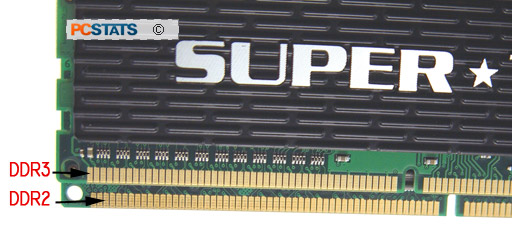 Placed edge to edge, it is easy to see the physical difference between DDR2 and DDR3 modules. Where the module is 'keyed' is what separates the modules from bing installed in the wrong slot.
JEDEC standards dictate desktop DDR2 memory speeds to between 400-800 MHz, although chipset and memory manufacturers have pushed DDR2 speeds much further.
The JEDEC standard for DDR3 memory started at 800 MHz, and runs (officially) as high as 1600 MHz. While there is a bit of overlap in terms of speeds, it's not likely to last. At the moment most DDR3 memory is coming in two flavors, 1066 and 1333 MHz. The speed will increase as the memory standard matures.
Okay enough with all of that, let's see what the Crucial Ballistix PC3-12800 CL8 memory can overclock to!