When it comes to memory, Crucial is one of the most trusted brands for mission critical stability. Crucial is still relatively new to the enthusiast memory game however, and there it faces a lot of competition from vendors like Corsair, Mushkin, Patriot, and PNY. Working in its favor, Crucial's Ballistix line of memory is aggressively priced and backed by excellent support and easy availability. All good facets for sure, but like the computer enthusiasts who squeeze every last drop of performance from their PCs, it's the benchmarks that really stand the test of time.
DDR3 memory is all the hype right now, particularly with Intel's X38 chipset making waves. Crucial's entry into the enthusiast class DDR3 memory line the 2GB Ballistix PC3-12800 CL8 memory kit. Each stick in this pair is 1GB in capacity, and runs by default at DDR3-1600 speeds. The Crucial Ballistix DDR3 has CAS latency timings of 8-8-8-20 (on 1.8V), and will set you back $677 CDN ($680 US, £333 GBP) for the two. DDR3 memory is pricey, regardless of where you shop.
Crucial equip its Ballistix PC3-12800 CL8 memory with custom orange aluminum heatspreaders to help keep the DDR3 BGA DRAM modules cool. DDR3 memory draws less power and generates less heat than DDR2 memory on the whole, however when overclocked to high voltages/speeds the memory still gets hot.

Crucial Ballistix PC3-12800 Memory
RAM Memory Type: DDR3-1600 / PC3-12800
Individual Module Capacity: 10248MB
Native Speed & Latency: 1600 MHz @ CAS 8-8-8-20
Interestingly enough, looking at the memory stick, we can see that the memory modules are single sided, that means all the memory modules are located on the same side.
As is the case with DDR2 RAM, attempting to remove the heatspreader will most likely damage the memory stick. The bending and prying involved with separating a heatspreader from the module often breaks the solder contacts between the DDR3 BGA modules and the PCB. Don't remove the heatspreaders, not even to install those after market memory heatsinks!

Now if you're puttering along with a Core 2 Duo and a sweet set of DDR2 performance memory, and contemplating the shift to DDR3, there are a couple things you should know.
At the moment only motherboards based Intel's P35 or X38/X48 Express chipset support the DDR3 memory standard. The Intel X38 Express chipset is the flagship choice naturally. If you're an AMD user, no DDR3 for you. Currently none of AMDs processors utilize DDR3 RAM. Each AMD processor has its memory controller built right into the core, so DDR3 can only be adopted when the underlying CPU architecture calls for it. As it stands, the AMD 'AM3' processor, due late 2008 is the first AMD CPU road-mapped for DDR3 memory.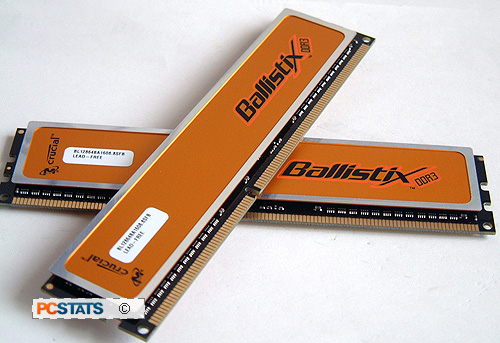 PCSTATS will take a closer look at the DDR3 memory standard next, before running through a very exciting overclocking session! Ready? Set. Go!