Believe it or not, there are high performance motherboards out there for Intel's latest and greatest CPUs which don't have an Intel chipset at their heart. Top of that list is the nVidia nForce 680i, and it not only supports 1066MHz FSB processors but also the new breed of 45nm 'Penryn' 1333MHz FSB CPUs. In fact nVIDIA had an Intel motherboard that supported dual videocards and 1333 MHz FSB processors well before Intel ever released its P35 or X38 chipsets.
That's all well and good for the techno-history buffs, but what really makes the MSI P6N Diamond motherboard and its shinny little nVidia 680i chipset stand out is SLI. None of this dual videocard stuff limited to just ATI Crossfire. nVidia chipset means nVidia SLI, and no matter which side of the red/green fence you're on its hard to look past the popularity of the Geforce 8600GTS and Geforce 8800GTS videocards. Teamed up into a pair and running SLI on an Intel Core 2 Duo processor just sweetens the pot.
As if all this wasn't enough, the MSI P6N Diamond gets away with affordable, abundant, inexpensive DDR2 memory. One look at the price of enthusiast grade DDR3 memory has probably put you off any motherboards that rely on the stuff. It's great to see a 1333MHz FSB motherboard tuned for performance that can run with memory not priced into the stratosphere.
Now that you know the important points, lets get down to the specs on the MSI P6N Diamond motherboard in a little more detail.
The MSI P6N Diamond is an Intel socket 775 motherboard that supports Core 2 Duo/Quad/Extreme and processors running on a 533/800/1066/1333 MHz Front Side Bus. That covers all Intel CPUs back to the Pentium D. Chipsets are the heart of the P6N Diamond, and this board is based on to very solid performers; the nVIDIA nForce 680i northbridge and nForce 590i southbridge. That puts a pile of PCI Express lanes at your feet, allowing dual SLI videocards to run in x16/x16 or quad PCI Express x16 videocards to run in x8/x8/x8/x8 mode.

MSI P6N Diamond Motherboard




Includes:
Driver CD, User's Manual, Rounded Ultra/133 IDE Cable, Floppy Cable, 4x Serial ATA Cables, 4x Molex to Serial ATA Power Cables, Audio Bracket, I/O Shield
A quintet of DDR2 memory slots support the usual 8GB of DDR2 533/667/800 RAM, in dual channel mode. Other onboard goodies are fairly abundant, and top of the list has to be the Creative Sound Blaster X-Fi Xtreme 7.1 channel audio controller! Nice. Other standard bits of kit include dual Gigabit network jacks, IEEE 1394 Firewire, seven internal Serial ATA II Ports with the option of configuring RAID (0,1.0+1,5,JBOD), an eSATA jack at the rear, a pile of USB2.0 headers, and a coaxial SPDIF audio output.
The MSI P6N Diamond uses pair of copper heatsinks interconnected by a heatpipe to keep the chipsets running at the appropriate temperature. Motherboard longevity is enhanced by using only solid-state aluminum capacitors. There are no electrolytic capacitors on this board to burst or leak electrolyte down the road. All this will set you back in the neighborhood of $215 CDN ($227 US, £109 GBP). Compared to a high end Intel P35 Express or X38 Express motherboard the MSI P6N Diamond is quite affordable. Plus, Intel P35 based motherboards don't give you the option of running Quad SLI now do they? ;-)
The MSI P6N Diamond is a highly integrated ATX motherboard, but we really like that expansion slots are still very plentiful. There are four physical PCI Express x16 slots, one PCI Express x1 and two 32 bit PCI slots for whatever you need. If you need to use some high bandwidth PCI Express devices, they can be installed in the available PCI Express x16 slots. The slots may be designed to function with videocards, but other PCI Express peripherals will operate just fine in the large slots too.
Like all high end motherboards, with the amount of heat generated just by the nVidia nForce 680i Northbridge and nForce 590i Southbridge chipsets, it's a wise to ensure adequate cooling inside the PC case. Clean out the chipset heatsinks of dust and debris every few months and consider adding an exhaust fan at the rear of the case.
The layout of components on the MSI P6N Diamond motherboard is good, we didn't experience any significant issues installing the motherboard in the PCSTATS labs. The only potential hiccup you might come across is the lack of a parallel printer port. On the P6N Diamond it has been traded for a copper cooling fin extending over the MOSFET power circuitry to the I/O area. The I/O shield is even vented to allow warm air to escape the system a little easier.
Should you get lost during installation, MSI does include a fairly detailed user's manual with the motherboard. It'll guide you through the hardware installation process, BIOS setup and even how to configure different levels of nVidia RAID.
Creative SoundBlaster X-Fi Audio on board
PCSTATS has groaned about the quality of onboard audio solutions for years, and if you need more audio features and post-processing than an AC'97 codec can provide you know that standalone sound cards are important for a variety of reasons. One fo the biggest is offloading CPU processing time. The MSI P6N Diamond motherboard is blessed with an onboard Creative Sound Blaster X-Fi Extreme sound system. This hardware chipset supports 24bit/96kHz 7.1 audio with a signal to noise ratio of >108dB and a total harmonic distortion and noise at 1kHz of 0.006%. Creative's X-Fi technology includes Creative's custom Crystalizer, CMSS-3D Virtual and CMSS-3D Headphone software. Works in Microsoft Vista too.
The Sound Blaster X-Fi Extreme supports Digital dts Surround sound as well as DOLBY DIGITAL EX audio decoding. Home entertainment users can appreciate that, particularly when you've connected the PC up to compatible speakers and relaxed into a true home theatre experience.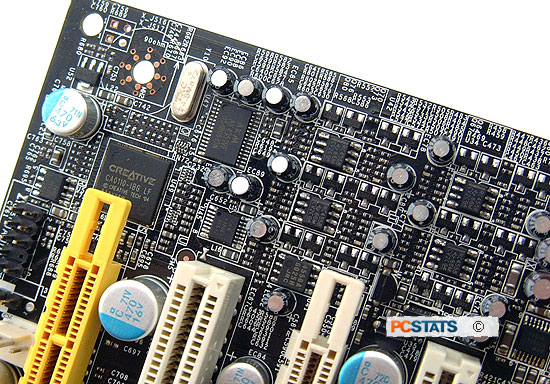 One thing is for sure, the Creative Sound Blaster X-Fi is a better audio solution than the Intel Azalia High Definition software soundcard most Intel motherboards are equipped with. You don't have to install a third party soundcard if you're using the MSI P6N Diamond! Next up, motherboard highlights and a quick tour of the board before PCSTATS gets into the meaty overclocking tests!