The simple truth is Intel's P35 Express chipset rocks. It offers excellent performance, rock solid stability, a load of features and is priced aggressively to boot. Mainstream users really can't hope for much more, but if you're looking to build a low cost entry level computer I'll bet you want something a little cheaper than P35 can afford. Well just your luck, Intel has released a stripped down iteration of the P35 called the P31 Express chipset. It's well featured, and very inexpensive.
I had a quick look around CanadaComputers.com for Intel P31 Express motherboards, and many retail for in the region of $80 CDN. If you're on a budget, this can help you build a very lean computer. Now I'm sure you're wondering why there is a price difference between the P35 and P31 Express chipsets. The main differences are what the P31 is limited to, and that includes a maximum of just 4GB of total system memory, DDR2 memory speeds capped at 800 MHz, and according to Intel, FSB limited to 800M/1066MHz.
The biggest difference between P35 and P31 chipsets really has nothing to do with the Northbridge actually, it's what Southbridge is bundled. The Intel P35 Express comes with the modern ICH9 variant, while the Intel P31 Express uses ICH7. That means a motherboard with a P31 Express would only have four Serial ATA II channels, possibly no or basic RAID features and eight USB 2.0 slots at most.
Most mainstream value oriented computers really don't need a lot of Serial ATA or USB ports, and for the low price you can life without RAID. If that describes you, a motherboard built on the Intel P31 Express can save a bundle. In this review PCSTATS will be testing out the Gigabyte GA-P31-DS3L motherboard (P31 Express / ICH7). It's a good budget board by the looks of it (what with all the solid state aluminum capacitors), and costs just $80 CDN ($83 USD, £40 GBP) which is quite affordable.
The Gigabyte GA-P31-DS3L supports Intel Core 2 Duo/Quad/Extreme processors on a 800/1066/1333 MHz FSB, a max of 4GB DDR2 800/667, and one PCI Express x16 videocard. Integrated items include Gigabit networking, 7.1 channel High Definition audio, one IDE and floppy connector, four SATA, four USB 2.0 ports at rear, and optical/SPDIF audio output. In the box it's nothing the bare basics.

Gigabyte GA-P31-DS3L Motherboard



Includes:
Driver CD, User's Manual, Ultra/133 IDE Cable, Floppy Cable, 2x Serial ATA Cables, I/O Shield
It's interesting to note that while the Intel P31 Express chipset officially only supports 800 and 1066 MHz FSBs, Gigabyte claim the GA-P31-DS3L motherboard can run at 1333 MHz FSB. It indicates that all over the motherboard box, in the manual and on the motherboard PCB as well. For the record the Gigabyte GA-P31-DS3L had absolutely no problems running an Intel Core 2 Duo E6750 at its native 1333 MHz bus speed.
Board Layout and Capabilities
The Gigabyte GA-P31-DS3L motherboard is refreshingly small and will have no problems fitting in those tight cases. Because of the small size of the motherboard though, the layout of devices is very tight so you'll have to be creative routing cables. In terms of difficulty, if the GA-P31-DS3L is the first motherboard you've worked on, don't put that user's manual away just yet.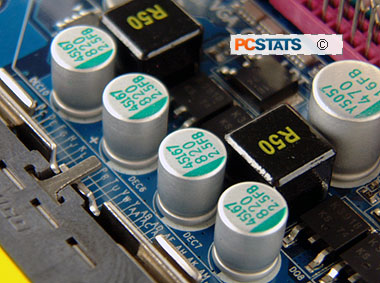 Gigabyte passively cools the Intel P31 Express and ICH7 chipsets, note both get fairly warm so maintain good airflow in your computer case to avoid problems down the road. The GA-P31-DS3L is compatible with older 20 pin ATX 1.4 spec power supplies as long as there are enough amps on the 12V rail/s.
The Gigabyte GA-P31-DS3L really doesn't have many integrated options aside from what the Intel ICH7 brings to the table, but that's alright. There are three PCI Express x1 slots available for high bandwidth devices and three 32 bit PCI slots for legacy devices. That should be enough to expansion to cover typical PC requirements.
PCSTATS was pleasantly surprised that Gigabyte choose to equip its GA-P31-DS3L motherboard with all Ultra Durable solid capacitors. Budget motherboards don't usually get this kind of treatment. If Gigabyte is extending solid capacitors to all motherboard segments that is especially good news for consumers. If you'd like to learn about the benefits of Gigabyte's Ultra Durable 2 solid capacitors, have a read here .
The Gigabyte GA-P31-DS3L is well labeled; various ports, headers or slots are easily identifiable. If you're not sure what a given socket is for during installation, look on the PCB and you'll find the answer. With modern cases supporting USB and audio output on the front panel, it would have been nice if Gigabyte had colour coordinated or labeled pin polarity too.