Overclocking Results:
Patriot Memory's products have generally performed well in the PCSTATS overclocking test labs, however seeing as how the PDC24G6400LLK is a 4GB memory kit we're going to keep our expectations under hat. Higher capacity memory is always more of a challenge to overclock than lower capacity modules, regardless of vendor. The Patriot Memory PDC24G6400LLK modules will be installed in a MSI P6N Diamond motherboard, along with an Intel Core 2 Duo E6750 processor. Starting at 800 MHz, the memory was overclocked in 20 MHz increments.
With tight 4-4-4-12 memory timings applied by default, the Patriot PDC24G6400LLK needed a voltage bump to 2.0V just to run at DDR2-800 speeds. Patriot indicates that this memory requires 2.2V, but we're able to get by on slightly less. To reach 900 MHz the memory voltage was increased to 2.1V, and thereafter required 2.2V to crack the 1000MHz barrier. A few minutes later we settled on a top speed of 1066MHz with low CAS latency timings of 4-4-4-12. Nice!
Starting at the 1066 MHz mark with 5-5-5-15 timings, let's see how much higher the Patriot PDC24G6400LLK memory can go. It had little difficulty with 1100 MHz, but quickly reached the end of its rope at 1180 MHz before things started to go downhill. That's not bad for a 4GB memory kit, and it's definitely high enough for you to find the maximum range of the rest of your components.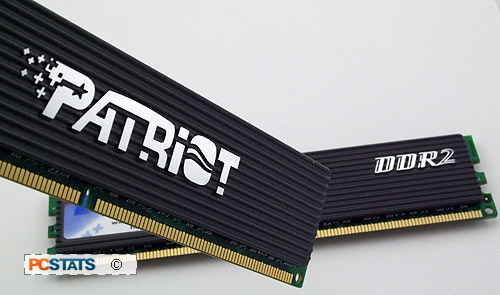 Prelude to Benchmarks
The details of how the 4GB Patriot Memory PDC24G6400LLK DD2-800 test system was configured for benchmarking, including the specific hardware, software drivers, operating system and benchmark versions are indicated below. In the second column are the general specs for the reference platforms this pair of PC2-6400 DDR-2 memory is to be compared against. Please take a moment to look over PCSTATS test system configurations before moving on to the individual benchmark results.