Microsoft Windows Vista uses a ton of memory, and so far the sweet spot seems to be at the 2GB mark. Of course the operating system is still in its infancy, so that value is bound to increase in the future. I guess we'll see how things are after a few DirectX 10 games have been released... but in any case the next logical step will be 4GB of RAM.
With DDR2 prices at all time lows, it's definitely an excellent time to upgrade your PC's memory. A 2GB memory kit is very inexpensive, but if you're going to upgrade there are larger capacity options available. A 4GB memory kit doesn't cost too much, so if you have a bit of extra coin consider upgrading in that direction.
Patriot Memory is a relative newcomer to the enthusiast memory market, but in the last few years it's proven itself by delivering the goods. Its' memory competes on even terms with the likes of Corsair, Mushkin and OCZ. That kind of competition in the enthusiast market is what PCSTATS likes to see.
In this review PCSTATS is pleased to be testing a new 4GB pair of Patriot Memory's DDR2-800 PDC24G6400LLK memory. The dual channel memory kit is rated to run at DDR2-800/PC2-6400 speeds with impressive 4-4-4-12 memory timings! Yes you read that right, the Patriot PDC24G6400LLK is a low latency 4GB memory kit! With a retail price of $178 CDN ($185 USD, £89 GBP) the PDC24G6400LLK is not exactly cheap, but for this class of RAM it's a steal.

Patriot PDC24G6400LLK DDR2 Memory
RAM Memory Type: DDR2-800 / PC2-6400
Individual Module Capacity: 2048MB
Native Speed & Latency: 800 MHz @ CAS 4-4-4-12
Enhanced Performance Profiles (EPP): No
Patriot Memory's PDC24G6400LLK modules are rather plain in appearance, equipped with a simple grey coloured aluminum heatspreader which helps protect the DRAM and PCB from physical damage. If you're into overclocking, the heatspreaders also help keep temperatures down at high speeds and voltages.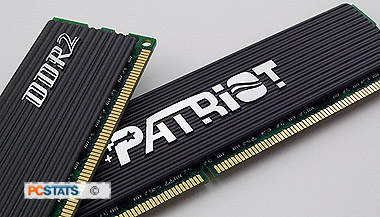 The Patriot memory kit does not support nVIDIA's EPP, so if you're a novice at overclocking make sure you check out PCSTATS' guide at overclocking memory . It will help you through the twists and turns of overclocking, and should allow you to get a decent boost from your computer.
One way to gauge how well a manufacturer feels about its products is by the warranty it offers. With a lifetime warranty on the Patriot Memory PDC24G6400LLK memory kit, you can tell that Patriot believes in this product. A warranty is important with memory, never by RAM that isn't covered by one.
Anyway, enough of all that. The only way to tell good memory from mediocre memory is to test it. So let's begin!
PCSTATS Test Methodology
On Intel Socket 775 Core 2 Duo test systems, we're only interested in seeing how high we can go with the DDR-2 memory running 1:1, as running with other dividers puts the overclocking bottleneck elsewhere and not with the system memory. The DDR-2 RAM latency must run at its lowest possible setting, as quick access is more important to the CPU design. Just for arguments sake, we will also be conducting overclocking tests to see how high the memory will go with lax timings (5-5-5-15), although we will only benchmark the system with the tight memory timings mentioned above.
Let's get started and overclock these puppies!