Overclocking Results:
I have no idea where A-DATA stands in respect to overclocking, so we're heading into this round of testing blindly. The low latency specs should guarantee pretty good results, let's find out and leave the speculating to someone else.
A-DATA's Vitesta Extreme Edition 2GB DD2-800 memory kit was installed onto a shiny new MSI P6N Diamond motherboard, along with the popular Intel Core 2 Duo E6750 processor. Starting at 800 MHz the memory was overclocked in 20 MHz increments while everyone in the PCSTATS labs chanted "overclock overclock overclock!".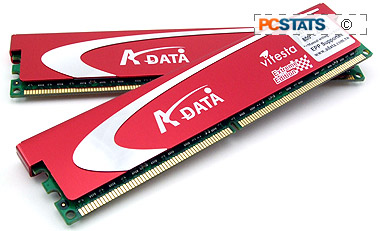 At 940 MHz the A-DATA memory started to give us some problems, so the DDR2 memory voltage was increased to 2.2V. The Vitesta Extreme Edition DDR2-800 memory was able to crack the 1000 MHz mark, pretty good considering its running 4-4-4-12 memory timings. The fun ended quickly after that, and the A-DATA memory reached its maximum overclocked speed of 1100 MHz. Anything higher and the memory would BSOD while running benchmarks, shoot out red flames and go into a tail spin.
The memory timings on the A-DATA's Vitesta Extreme Edition 2GB DD2-800 RAM were next loosened to 5-5-5-15, which will allow the RAM to reach its true limits. With a voltage of 2.4V, the A-DATA memory reached a nice maximum speed of 1230 MHz under these loose timings. Looks like the Vitesta Extreme Edition DD2-800 memory is pretty good at overclocking, even with its budget price!
Prelude to Benchmarks
The details of how the 2GB A-DATA Vitesta Extreme Edition DD2-800 memory test system was configured for benchmarking, including the specific hardware, software drivers, operating system and benchmark versions are indicated below. In the second column are the general specs for the reference platforms this pair of PC2-6400 DDR-2 memory is to be compared against. Please take a moment to look over PCSTATS test system configurations before moving on to the individual benchmark results.