Are you ready for some really great news!? Here it is - DDR2 memory prices are falling like a rock. While most consumers have no need for DDR3 RAM right now, it's introduction has relegated DDR2 to an "old technology" status. The best part is for the majority of computer users, DDR2 still offers superior performance to the new memory standard. Strange I know, but that's the way it always goes. New memory standards are designed for future platforms, so for those of us sticking with an Intel Core 2 Duo/Quad processor or who have plans to pick up a 65nm processor, DDR2 memory is still the best route to take. In six months that could all change, but what doesn't in the computer industry?
While DDR2 memory prices have been dropping, the quality of the memory being released has improved dramatically. These days you can get a quality 2GB low latency DDR2-800 memory kit for well under $100 CDN, talk about a value! Whether you're building a new PC or want to upgrade your current computer, now is an excellent time to grab more DDR2 memory.
There are a lot of memory options on the market...if you're a novice that's lost, here's a helping hand. You will want DDR2 memory running at 800 MHz or higher, that can run tighter timings (say 4-4-4-12) instead of the industry standard 5-5-5-15. Most 2GB dual channel memory kits (2x 1GB) are super affordable, so all you really need to do is ensure your PC still has two free DDR2 memory slots. Dell sometimes cheap's out and packs all four memory slots with 512MB or 256MB modules instead of two 1GB, or 512MB memory modules.
A-DATA is not a memory brand we're really familiar with here in North America, its main audience has been Asia. The company is now making an effort to catch our attention, so let's test first, then form our opinions. Looking at the specs the A-DATA Vitesta Extreme Edition DDR2-800 memory has all the makings of a high end DDR2 kit; 2GBs of PC2-6400 dual channel goodness, Enhanced Performance Profile support (EPP), 4-4-4-12 memory timings and a pretty swanky bright red memory heatsink.
The best part of the 2GB A-DATA Vitesta Extreme Edition DDR2-800 memory kit is its price point, just $60 CDN ($63 USD, £30 GBP); talk about a steal.

A-DATA Vitesta Extreme Edition DDR2 Memory
RAM Memory Type: DDR2-800 / PC2-6400
Individual Module Capacity: 1024MB
Native Speed & Latency: 800 MHz @ CAS 4-4-4-12
Enhanced Performance Profiles (EPP): Yes
To get the A-DATA Vitesta Extreme Edition DDR2-800 memory to run with 4-4-4-12 timings, it's recommended that you increase the voltage to 2.0-2.1V (1.8V is DDR2 stock voltage). A-DATA definitely thinks highly of its memory and offers a limited lifetime warranty with its memory. Should you have any problems, there's even a phone number on the back which you can call. The toll free number, not printed on the packaging is 1-888-YO-ADATA (96-23282).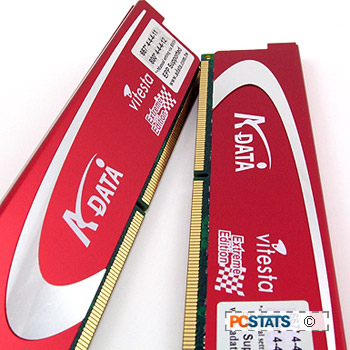 To help protect the fragile BGA DDR2 memory modules and the PCB from damage, A-DATA equips the Vitesta Extreme Edition DD2-800 memory with a custom red aluminum heatspreader.
The Vitesta Extreme Edition memory has a thick thermal adhesive to secure the heatsink to the DRAM modules. Needless to say, you're probably going to damage the memory module if you attempt to remove the heatsinks.
Okay, enough of that, the real measure of memory can only be found by overclocking and benchmarking it.
That's up next in this PCSTATS review!
Test Methodology
On Intel Socket 775 Core 2 Duo test systems, we're only interested in seeing how high we can go with the DDR-2 memory running 1:1, as running with other dividers puts the overclocking bottleneck elsewhere and not with the system memory. The DDR-2 RAM latency must run at its lowest possible setting, as quick access is more important to the CPU design. Just for arguments sake, we will also be conducting overclocking tests to see how high the memory will go with lax timings (5-5-5-15), although we will only benchmark the system with the tight memory timings mentioned above.