Overclocking Results:
Having overclocked just a handful of DDR3 memory modules thus far, I'm not yet an expert on all the in's and outs. There's a learning curve with everything, even for us 'experts'. Patriot Memory's 2GB PDC32G1866LLK DDR3-1866 kit was installed into an Asus BLITZ Extreme motherboard along with an Intel Core 2 Duo E6750 processor. This ASUS board is a monster overclocker, so we're hoping for a good showing.
By default the Patriot PDC32G1866LLK DDR3-1866 memory timings are set at 8-8-8-24 with 1.9V. PCSTATS was unable to get the Patriot memory to run at a tighter 7-7-7-18 timing regime while running the memory at DDR3-1866 speeds.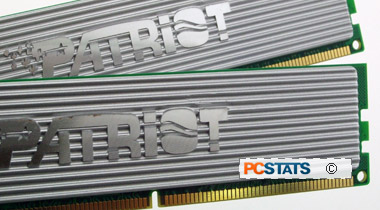 The fastest the memory wound run with the tight timings was 1740 MHz, with 2.0V. I guess more voltage may have worked, but as it is the voltage was already increased 0.5V above stock DDR3 voltage values. That's quite a bit.
Loosening the memory timings to 8-8-8-24 allowed the Patriot PDC32G1866LLK DDR3-1866 memory to clock much higher... and boy did it ever reach for the stars! Starting at 1866 MHz and lowering the voltage down to 1.9V, the memory frequency was increased in 20 MHz increments. 1900 MHz fell by quite easily, however the voltage needed a bump to reach 1920 MHz.
In the end, the Patriot PDC32G1866LLK overclocked to a remarkable 1960 MHz with 2.1V, anything higher and the system was simply unstable. 1960 MHz is a very nice speed, and just 40 MHz lower than the magical 2 GHz barrier!
Prelude to Benchmarks
The details of how the Patriot PDC32G1866LLK DDR3 memory test system was configured for benchmarking, including the specific hardware, software drivers, operating system and benchmark versions are indicated below. In the second column are the general specs for the reference platforms this pair of DDR3-1866 / PC3-15000 DDR3 memory is to be compared against. Please take a moment to look over PCSTATS test system configurations before moving on to the individual benchmark results.
On Intel Socket 775 Core 2 Duo test systems, we're only interested in seeing how high we can go with the DDR3 memory running 1:2, as running with other dividers puts the overclocking bottleneck elsewhere and not with the system memory. The DDR3 RAM latency must run at its lowest possible setting, as quick access is more important to the CPU design. Just for arguments sake, we will also be conducting overclocking tests to see how high the memory will go with lax timings (8-8-8-24). Benchmarks will be run with which ever state garners better performance.

PCSTATS Test System Configurations
test system
processor:

intel Core 2 Duo E6750

Clock Speed:

8 x 333 MHz = 2.66 GHz

Motherboards:

Asus BLITZ EXTREME (Intel P35 Express / DDR3)

Videocard:
Memory:
2GB Kit Corsair DOMINATOR Twin3X2048-1800C7D (DDR3)
2GB Kit Patriot PDC32G1600LLK (DDR3)
2GB Kit Patriot PDC32G1866LLK (DDR3)
Hard Drive:
74GB Western Digital Raptor WD740
CDROM:
AOpen Combo 52x
PowerSupply:
PC Power & Cooling TurboCool 510 SLI
Heatsink:
Intel Reference
Software Setup:

Microsoft Windows Vista Ultimate
Intel INF 8.3.0.1013
nVIDIA Forceware 162.22

Benchmarks:

SiSoft Sandra XII
WinRAR
PCMark Vantage
3DMark06
Quake 4
FEAR