Running at a 1600MHz bus speed with four processing cores? One thing' the 45nm 'Penryn' Intel processor will need is bandwidth, and lots of it. Enter DDR3 memory. If you're a forward thinking computer user in the market for parts right now you may want to consider investing in a DDR3 capable motherboard. After all, the new DDR3 memory standard is set to be around till 2010 at least.
The new DDR3 memory standard is necessary because the introduction of four processing cores essentially doubles the bandwidth required by the CPU. The fastest DDR2 memory running in a dual channel configuration cannot even come close in supplying what is needed, hence the introduction of DDR3. Initially DDR3 is rated to go as high as DDR3-1600 but enthusiast class manufacturers are already pushing these speeds close to 2 GHz.
Patriot Memory made quite a name for itself in the DDR2 era by releasing some pretty fast memory. It's looking to continue its track record with DDR3 I expect. The 2GB Patriot Memory PDC32G1866LLK DDR3-1866 memory kit PCSTATS is testing for you today is the companies' fastest current memory part, running at a blistering 1866 MHz! The PDC32G1866LLK kit has a PC3-15000 rating, which that means it's capable of delivering a massive 15GB/s to the system. Yikes!
Patriot's 2GB PDC32G1866LLK DDR3-1866 memory kit retails for $534 CDN ($555 USD, £268 GBP). That may sound pricy, but it's actually competitive for 2GB of good high speed DDR3 RAM.

Patriot PDC32G1866LLK DDR3 Memory
RAM Memory Type: DDR3-1866 / PC2-15000
Individual Module Capacity: 1024MB
Native Speed & Latency: 1866 MHz @ CAS 8-8-8-24
According to Patriot Memory, the PDC32G1866LLK modules are rated to run at DDR3-1800 speeds with memory timings of 8-8-8-24. Recommended voltage is 1.9V (1.5V stock) - so Patriot is using an overclocker's trick to get its memory to run fast.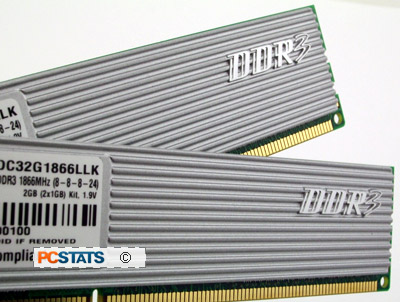 The Patriot PDC32G1866LLK memory kit is single sided which means there's BGA DRAM on one side of the memory module only. Patriot uses its standard aluminum heatspreaders on its PDC32G1866LLK memory to help protect the BGA DDR3 DRAM modules and PCB. If you're overclocking at high speeds with a lot of voltage, the heatspreader does a decent job keeping things cool.
Considering the price of DDR3 memory modules and how fragile the BGA DRAM is, do not remove the heatspreaders. Doing so can break the contact solder balls which could render your DDR3 memory useless. Remember kids, physical damage is not covered under warranty. ;-)
At the moment only motherboards based Intel's P35 or X38/X48 Express chipset support the DDR3 memory standard.
The Intel X38 Express chipset is the flagship choice naturally. If you're an AMD user, no DDR3 for you. Currently none of AMDs processors utilize DDR3 RAM. Each AMD processor has its memory controller built right into the core, so DDR3 can only be adopted when the underlying CPU architecture calls for it. As it stands, the AMD 'AM3' processor, due in 2009 is the first AMD CPU road-mapped for DDR3 memory.
Will the Patriot PDC32G1866LLK be able to reach 2000 MHz? That's what we'll find out next as PCSTATS gets its hands dirty in the overclocking lab.