So you've just picked up an Intel X38 motherboard and you're looking to fill its DDR3 slots with some quick enthusiast grade DDR3 memory. Where do you begin? Who has the best DDR3 RAM for the money? Easy answer - start your search at PCSTATS (memory comparison HQ). As to the question of what brand offers the best DDR3, the answer is not so simple; basically all brands have at least one or two "best" memory models. The simple rule of thumb with desktop DDR3 RAM, and even DDR2 memory, is to shop for lower latency rated modules.
CAS Latency (CL) is the measure of the number of clock cycles it takes after the memory controller tells the memory module to access a particular column data, and that data is output. The lower the amount of time this takes, the more work memory gets done in a given period of time. For example, in benchmarks PCSTATS has long shown its readers that DDR2 memory with a CAS latency of 4-4-4-12 posts better benchmark results at stock speed than the same speed DDR-2 with lax 5-5-5-15 memory latency timings. The former RAM is simply able to do more in the same amount of time.
With the emergence of DDR3 RAM, CAS Latency values have changed somewhat, but the benefits of good memory latency timings for desktop RAM holds true. Only in this case, a CL of 7-7-7-18 is considered quick for DDR3 RAM, and a CL of 8-8-8-24 lax.
In this review PCSTATS is testing a 2GB pair of DDR3-1600 memory from Patriot Memory. I have no idea if the company is actually "patriotic" by calling itself Patriot, but its PDC32G1600LLK PC3-12800 low latency memory does look nice. These enthusiast grade DDR3 modules run at 1600MHz, with a CAS latency of 7-7-7-18 at 1.8V. The low latency PDC32G1600LLK kit has a PC3-12800 rating, which that means it's capable of delivering a massive 12.8GB/s to the system.
Patriot's 2GB PDC32G1600LLK DDR3-1600 memory kit retails for $560 CDN ($570 USD, £277GBP) , which is competitive for a 2GB low latency DDR3 memory kit.

Patriot PDC32G1600LLK DDR3 Memory
RAM Memory Type: DDR3-1600 / PC3-12800
Individual Module Capacity: 1024MB
Native Speed & Latency: 1600 MHz @ CAS 7-7-7-18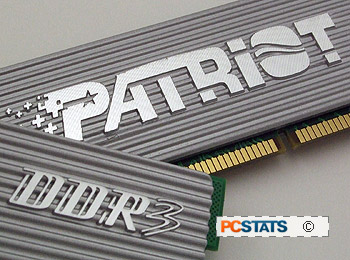 The Patriot Memory PDC32G1600LLK low latency DDR3-1600 kit is single sided, which means there's BGA DRAM on one side of the memory module only.
The modules are wrapped in Patriot's standard gray aluminum heatspreaders which protect the BGA DDR3 DRAM modules and PCB. If you're overclocking at high speeds with a lot of voltage, the heatspreader does a decent job keeping things cool.
Considering the price of DDR3 memory modules and how fragile the BGA DRAM is, do not remove the heatspreaders. Doing so can break the contact solder balls which could render your DDR3 memory useless. Remember kids, physical damage is not covered under warranty. ;-)
At the moment the only motherboards that support DDR3 are built with the Intel's P35 or X38/X48 Express chipsets.
The Intel X38 Express chipset is the flagship choice naturally, and supports the upcoming 1600MHz FSB 45nm 'Penryn' CPU. If you're an AMD user, sorry. No DDR3 for you. None of AMDs processors currently utilize DDR3 RAM. Each AMD processor has its memory controller built right into the core, so DDR3 can only be adopted when the underlying CPU architecture calls for it. As it stands, the AMD 'AM3' processor, due in 2009 is the first AMD CPU road-mapped for DDR3 memory.
We're going to forego the explanation of what separates DDR2 from DDR3 in this review, and jump right into overclocking the low latency Patriot Memory PDC32G1600LLK kit. Anyone willing to place a bet on how far she'll overclock; 1866MHz, 1960MHz, 2000MHz?
Let the fun begin, right after the jump...