Abstract: The Samsung syncmaster 940UX offers up a contrast ratio of 1000:1, brightness is pegged at a good 300 cd/m2, viewing angles sit at 160 degrees horizontal / vertical, and tripple video inputs (DVI, VGA, USB).


81% Rating:

Home > Reviews > Monitors > Samsung Syncmaster 940UX
If you're shopping for a LCD monitor you've probably noticed all the confusing numbers and specs printed on the sides of each monitor's box. If today is the first day you've considered switching to an LCD display, ignore everything and just pay attention to the three following specifications; contrast ratio, brightness, and viewing angles. Pixel times are tossed around a lot, and quick times are indeed better for gamers, but realistically anything around 16ms is fine for games, 25ms for office work.
Now, of those three main specs to watch out for, viewing angles are the best judge of actual LCD panel quality. If an LCD display has narrow viewing angles of 145/145 degrees horizontal/vertical, it's a bottom of the barrel kind of display. Conversely, an LCD with wide viewing angles of +170/+170 degrees is high quality. Realistically, 178/178 degrees is the highest this measurement will reach.
In this review PCSTATS is testing out the 19" Samsung Syncmaster 940UX LCD display. There are plenty of other LCD brands to choose from on the market, but we like Samsung for two reasons. First, it has been serving users since LCD displays first hit the market. Second, it is one of the few companies that actually manufacturers LCD glass.
The silver Samsung Syncmaster 940UX before us today is a tripple input LCD monitor, meaning it accepts a video signals over digital DVI, analog VGA and USB (UbiSync). Though DVI is the naturally preferred standard, multiple Syncmaster 940UX displays could be connected to a PC with the video signal going over the USB connection! There are some big limits for the USB-monitor-interface, so more on this in a moment.
The Syncmaster 940UX's 19" screen boasts a native resolution of 1280x1024 pixels, with an industry standard dot pitch of 0.294mm. The Samsung 940UX retails for $330 CDN ($334 USD, £162 GBP) and offers up a contrast ratio of 1000:1 (dynamic contrast ratio of 2000:1). The brightness is pegged at a good 300 cd/m2, viewing angles sit at 160 degrees horizontal/vertical, and pixel response time is a quick 5ms. A speed of 5ms is ideal for fast paced gaming. The display features a two-port USB hub integrated into the side of the panel, and is Microsoft Vista and Mac compatible.
Power draw is listed at 42 Watts while in use, less than 5 Watts in standby. Samsung include analog and DVI monitor cables, and a USB A-to-B data cable with the package.

Samsung Syncmaster 940UX LCD Display

Includes:

Manual, digital video cable, analog video cable, USB cable, power cable, software.


SPECIFICATIONS:
Screen size: 19"
Brightness: 300 cd/m2
Contrast Ratio: 1000:1 (dynamic contrast 2000:1)
Viewing Angle: 160°/160°
Inerface: Analog/DVI
Resolution: 1280x1024
Pixel Pitch: 0.294mm
Response Time: 5 ms
Power Draw: 42W
VESA Mount: 75mm
The Samsung SyncMaster 940UX comes with a three year warranty which covers all aspects of the product including the backlights. The screen is jet-black when it's turned on and displaying a 100% black image, which is always a good quick indicator of contrast.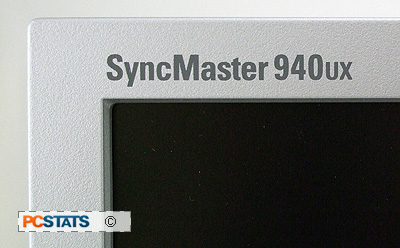 The 19" SyncMaster 940UX is available in silver and black bezels, the unit PCSTATS received for testing sports a businesslike silver bezel. The bezel is less than a half an inch thick on all sides, so it is barely noticeable. The Samsung logo and model number are stencilled in dark grey along either end of the lower bezel, and a set of six discrete buttons control the manual OSD settings.
A plastic base supports the display with a variety of adjustments to height, swivel, screen rotation and tilt. The base has rubber grips on the bottom and extends up into a gooseneck support that attaches to the display itself. The base swivel 360 degrees left or right effortlessly, and the height of the LCD may be adjusted about 3".
The Samsung Syncmaster 940UX measures 40.7 x 40.8 x 20cm and weighs 5.2 kg including the base. Power consumption is rated at 42W with the screen set to maximum brightness, less than 5W in standby mode.
USB Hub and USB Monitor for Vista
Many monitors feature built in USB hubs, this is nothing new. The Samsung 940UX take USB connectivity to the next level. When connected to a Windows Vista PC with the supplied USB cable, the Samsung 940UX is able to receive a 2D video signal from the videocard through the USB 2.0 bus. Where this pays off is if you wish to have multiple monitors connected to your computer. UbiSync will support up to four compatible USB monitors in a daisy chain, or up to six USB monitors connected in parallel to the computer. Just think of all the screen real estate that translates into. :-) The caveat is that the system only works with Windows Vista 2D objects -ie. if you want to play 3D games over the USB monitor connection you're out of luck.
The integrated two-port USB slots on the side of the 940UX can also be used to hook up other devices like a scanner, digital camera, flash memory drive or iPod very conveniently.

The Samsung USB Monitor is supported by the following operating systems; Microsoft Windows 2000 (SP4 or later), WindowsXP (SP2) and Windows Vista. Unfortunately, 64-bit versions of these operating systems are not supported, and there's no mention about Linux or Mac computers.
Really though, the big let down is that USB monitors cannot be used with 3D games. If you try to run a 3D application over a USB monitor connection the game may load, the image will not be displayed and you will just have the 2D Windows desktop to look at.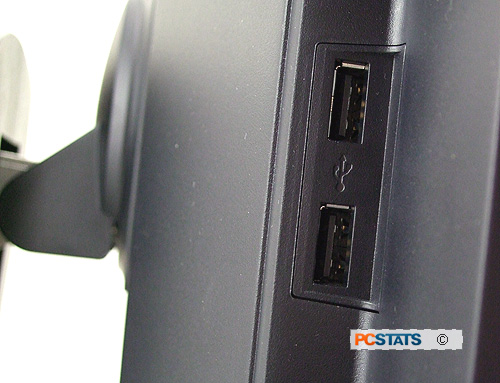 USB displays do support movie play back, though only one monitor would support DVD quality playback at full resolution, the others might not have sufficient bandwidth. Samsung state that Power DVD, WinDVD (version 5 or higher), Windows Media player (ver 10 or higher) and VLC Player are good to go.
Since the Syncmaster 940UX display is running through the USB 2.0 bus, there are naturally some minimum hardware requirements to consider. With one or two 19" Samsung 940UX displays connected via USB, you'll need at least a 1.2 GHz processor with 512MB system memory. Connecting three monitors requires a 1.8 GHz processor with 1GB of memory, and when using four or more, it's recommended that you have a 1.6 GHz dual-core processor with 1GB of memory.
To set USB display up, simply connect the USB 2.0 A to B cable (provided) to the computer, the system will prompt that a new "CD drive" has been installed, open it up, load the USB monitor driver and restart the computer. Once that's done the Samsung 940UX will be able to run through the USB 2.0 bus.
2D image quality from the USB monitor feature was excellent, at par with an analog or DVI connection as far as we could see. High definition video playback was very smooth also. In terms of 2D work, you're not going to notice the difference between the various connection options (VGA, DVI, USB). Of course, the PCSTATS test PC system well met the minimum hardware requirements. If you're using an older computer, check to make sure it's up to spec.
Again for the record, you still need a videocard even if you plan on using the USB monitor option. Removing the videocard from the system will result in no display. The USB monitor feature is certainly a handy tool for business applications where you need to clone your 2D video display or require a large amount of 2D screen real estate. In PCSTATS tests with it, we did experience a few glitches with the Microsoft Windows Vista gadgets on the right hand side, but that's about it.